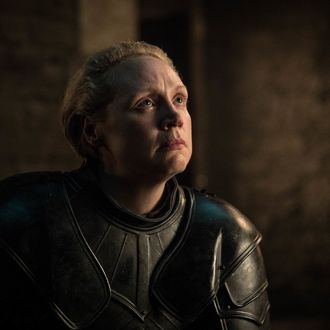 HBO is laughing its way to the (awards) bank despite very critical reviews of Game of Thrones' final season, with the show receiving an astonishing 32 Emmy nominations for all of that King Bran Energy. The historic haul was slightly dampened by the revelation that three supporting actors — Alfie Allen (Theon Greyjoy), Carice van Houten (Melisandre), and Gwendoline Christie (Brienne of Tarth) — weren't supported by the network during the Emmy nomination process, only receiving nominations because they submitted themselves for consideration. HBO executive Casey Bloys wants to assure us, though, that there was a reason behind the trio being snubbed, and that the network will "help out" these actors leading up to the ceremony.
"Thrones is unique because it has 20-something series regulars," Bloys explained at a TCA press tour earlier this week. "There is some strategic thinking." Allen, van Houten, and Christie were ultimately nominated for Best Supporting Actor (Drama), Best Guest Actress (Drama), and Best Supporting Actress (Drama), respectively.
Specifically, Bloys said that if too many actors' names were submitted for Thrones, it would've collectively undercut the Emmy chances of stronger contenders, such as Peter Dinklage, Kit Harington, Emilia Clarke, and Maisie Williams. Hey, Brienne of Tarth is pretty strong, but whatever.