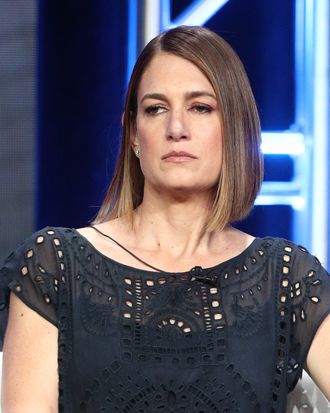 Photo: Frederick M. Brown/Getty Images
Gillian Flynn's breakout novel has been invoked in a Connecticut missing persons case. Mother of five Jennifer Dulos has been missing since May 24. Her estranged husband, Fotis Dulos, and his girlfriend, Michelle Troconis, have been charged with tampering with evidence and hindering prosecution. Police say the two of them dumped clothes stained with Jennifer's blood in 30 locations across Hartford on the day of Jennifer's appearance. But Fotis Dulos's lawyer has come up with a unique defense: Jennifer is doing a Gone Girl. "We're actively investigating the possibility that this is a Gone Girl–type case, and are considering the possibility that no third party was involved in foul play," he told 20/20. The police, however, do not appear to be considering that possibility.
Flynn told WTNH that she is appalled by the defense's theory: "It absolutely sickens me that a work of fiction written by me would be used by Fotis Dulos's lawyer as a defense, and as a hypothetical, sensationalized motive behind Jennifer's very real and very tragic disappearance," she said. Jennifer Dulos filed for divorce in 2017, and at the time of her disappearance she was in a custody battle with her ex. In court documents, she wrote that she was "terrified" for her family's safety. According to the National Domestic Violence Hotline, women are most likely to be killed by their partners when they are in the process of leaving them.