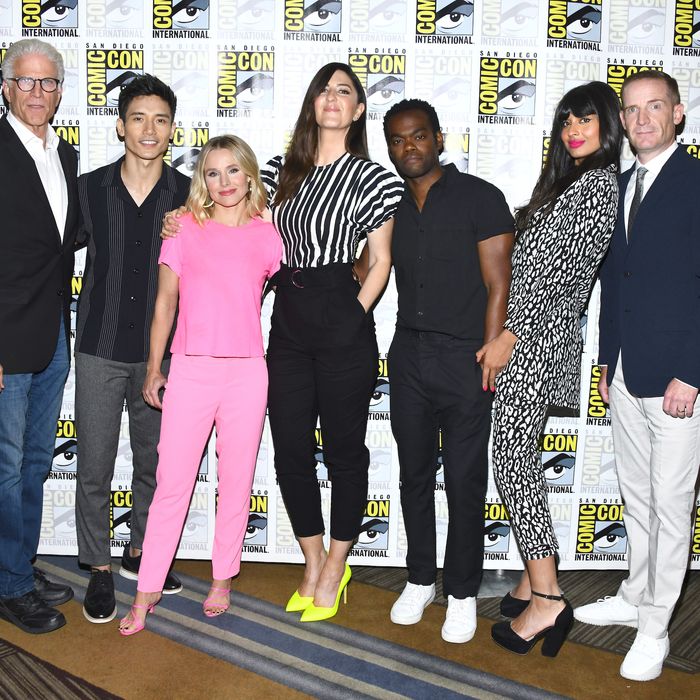 Soul Squad members Ted Danson, Manny Jacinto, Kristen Bell, D'Arcy Carden, William Jackson Harper, and Jameela Jamil pose with hell demon Marc Evan Jackson.
Photo: Araya Diaz/Getty Images
The crowd in the Indigo Ballroom at San Diego Comic-Con was fired up to see their Good Place faves at the show's last-ever SDCC panel on Saturday. Creator Mike Schur was present with director Drew Goddard and the whole Soul Squad to give the Con faithful one last opportunity to chant Janet! Janet!, which they rightly did once all the attendees were settled on the stage.
Marc Evan Jackson was his characteristically wry self in the moderator role — basically putting on a version of his hell-demon character, Sean, from the show — but even he couldn't avoid getting sentimental about just how sad it is to be saying goodbye to their hit series. By Kristen Bell's account, she immediately went to the bargaining stage of grief when Schur called to give her the news that they'd be electively ending the story. "Every bone in my body immediately somehow knew that he was going to say we were either canceled or wrapping it up," Bell told the audience, "And I said, 'Before you finish! The only way I'm going to be able to hear you out is if you promise to write me something immediately after the show!'" (Schur has apparently just finished writing the finale episode, so Bell said she's expecting a pilot for her next project … by the end of next week.)
Jameela Jamil, for her part, leaned into the sadness. "It's a tragedy to walk away from these people and this show and all of our amazing fans, because it's been the wildest experience of all of our lives. But also, it's so cool to know we are completing the story as it was meant to be completed." D'Arcy Carden framed letting go of The Good Place as a breakup where you still the love the person but you know you have to walk away from them anyway, and after saying a few magnanimous things finally just gave in and spoke to all our mourning hearts. "It's sad as hell," said Carden. "We can say it's great, but it sucks." Jamil immediately added, "We hate Mike."
For the rest of their hour at SDCC everyone on stage traded loving barbs, gave sincere testimonials about what an inspiring leader Schur is, whipped the crowd into a minor frenzy over the injustice of Carden's Emmy snub — which included a brief monologue by the showrunner about how there absolutely were not five better supporting actresses on television this year — and the proceeds finally concluded with Jackson tabling all his sarcasm and earnestly thanking Schur for The Good Place. The cast then lead the room in a lengthy standing ovation for the show's creator while he sat and tried not to cry. As you look at this photo of everyone holding each other over sad Mike, we invite you to cry it out, too.