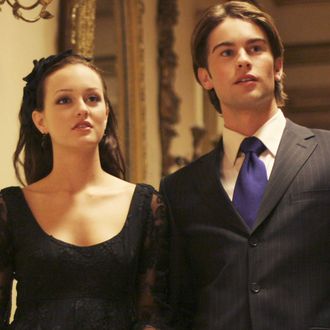 You know you love me.
Photo: The CW
Hey, Upper East Siders, Gossip Girl here — spotted: GG creators Josh Schwartz, Stephanie Savage, and executive producer Joshua Safran busy reviving Gossip Girl for a whole new generation. HBO Max announced Wednesday that it will reboot the prep-school tattletale for a new prestige series. Per the release from HBO Max: "Eight years after the original website went dark, a new generation of New York private school teens are introduced to the social surveillance of Gossip Girl. The prestige series will address just how much social media — and the landscape of New York itself — has changed in the intervening years." That means no B, no S, no Dan, no Nate, no Chuck — a moment of silence for our fallen soldiers socialites!
During the show's first season, New York famously declared Gossip Girl the best period show period ever period: What other teen drama gave you limousine hookups, college admissions scams, and used digs from the Parents Television Council — "Mind-blowingly inappropriate" — for self-promotion? Of course, the best part of watching Gossip Girl was talking about Gossip Girl, usually in the comments of Jessica Pressler and Chris Rovzar's infamous reality index. Good luck to the next generation of youngsters whose debauchery will be exposed by a local blog. XOXO!