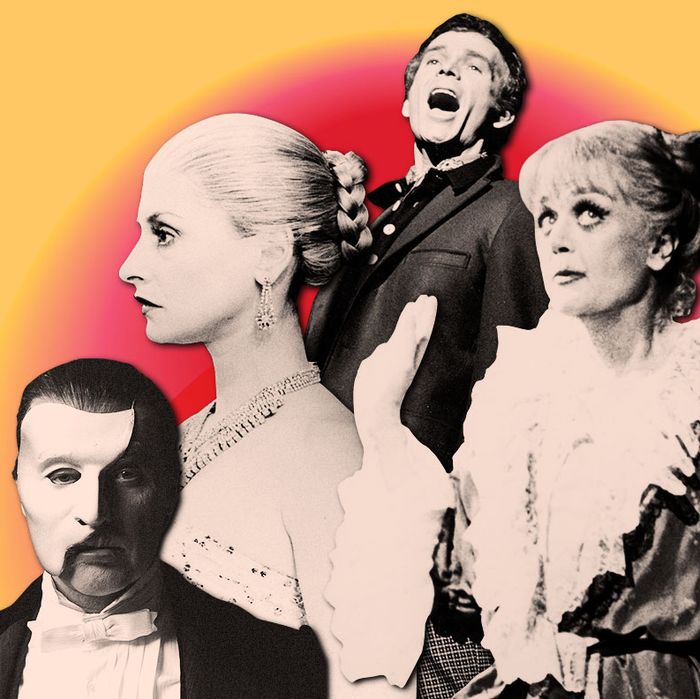 From left: Michael Crawford as The Phantom in
The Phantom of the Opera
, Patti LuPone as Eva Peron in
Evita
, Dean Jones as Bobby in
Company
, and Angela Lansbury as Mrs. Lovett in
Sweeney Todd.
Photo-Illustration: Maya Robinson/Vulture and Photos by Getty Images
We originally published this story on September 7, 2017, during the Broadway run of the musical revue Prince of Broadway. We are republishing it today in the wake of Hal Prince's death.
Compiling a ranking of the ten best Broadway musicals that have been touched in some small way by the incomparable director and producer (and, let us not forget, former stage manager) Hal Prince — whose storied career is celebrated in the musical-anthology show Prince of Broadway, now playing at the Samuel J. Friedman Theatre — is a challenge. It's easy for such a list to seem like a list of the ten best Broadway musicals, period. Prince's contribution to the American theater is so vast, so elemental, that it feels a little bit like ranking the ten best colors. A case can be made that green is a better color than yellow, but without both of them, the rainbow as we know it would cease to exist.
Still, I'm always up for a challenge, particularly one that will engage and perhaps, enrage, the show-biz multiverse known as my Twitter feed. Also: I am increasingly convinced that online lists are the only tool we have left to bring soothing order to an increasingly chaotic and senseless world. So why don't we go for it? Avant!
10. The Phantom of the Opera (1986; director)
Let me tell you a story about a little girl. She was 6 years old, and growing up in Omaha, Nebraska. She had brown hair and a penicillin allergy, and her name was — well, her name isn't important right now. Let's just say that as painful as it would one day be for her to admit this in a public forum, she loved the Broadway cast album of The Phantom of the Opera. The electronic organ from the overture made her heart race. She named every single of one of her Barbies "Christine Daaé" for an uncomfortably long period of time. And she used to pore over a coffee-table book about Phantom's behind-the-scenes making in order to discover all the secrets of a show whose exact plot remained mysterious, but whose score she had committed to memory. It was there, amid these glossy pages, that she first read the name and saw the face of Hal Prince, or as he was referred to, "legendary director Harold Prince." The little girl didn't understand what this bearded man with the glasses pushed up on top of his bald head could have directed that might possibly rival the genius of Phantom, but she figured, "What the hell, he must have done something sort of okay if he could figure out how to make a chandelier crash onto the stage night after night after night."
A couple of years later, the little girl's parents took her to New York, where they got tickets to see The Phantom of the Opera, which by some miracle was still running by 1989, despite her fears that she would never have a chance to see its glory in person! (It is still running. It has been running now for 31 years, which is something like the average life expectancy of a human being throughout the majority of recorded history.) Just to have something else to do the night before, her dad stood on line at the TKTS booth and picked up some tickets to Jerome Robbins' Broadway, which finally showed her some snippets of the very many other shows that Hal Prince had been involved in — all of which were way more delightful than the leaden production of Phantom that she finally saw, which confirmed for her older and wiser eyes and heart that the story still did not make any sense. Even so, Phantom is undeniable, and the gateway drug to the true genius of Hal Prince for a generation of future theater lovers.
9. Merrily We Roll Along (1981; director)
The show that brought an end to the charmed partnership of Hal Prince and Stephen Sondheim — freeing Sondheim up to explore new worlds with James Lapine — is often cited as one of Broadway's biggest, most unexpected flops. It's true that many of the formal conceits of Prince's original staging (the backwards structure, the casting of young and fresh-faced actors to play their jaded older selves, those shirts with the iron-on labels), while promising in conception, tended to obfuscate in performance what is essentially a simple, poignant story about the loss of innocence. But if Merrily was a failed experiment, it was a noble one, which has endured mightily in hundreds of revivals and revamps over the years, all of which have sought to rehabilitate a flawed show the way one might struggle to make sense of a problematic but beloved family member. It says something about Prince (and Sondheim, but we're not talking about him right now, for once) that even his flops are still lasting successes.
8. Evita (1979; director)
Evita is Andrew Lloyd Webber's best musical, and its original Broadway production made stars of Patti LuPone and Mandy Patinkin, which alone would have been more than enough. But that production was seriously elevated by Prince's mastery of spectacle and scale, not to mention his deft, class-conscious touch, which lent just enough sardonic humor to what might otherwise have been an overwrought tale about a "simple woman" who became something akin to a queen. The bottom line: When a show's single most iconic moment is a directorial flourish — like, say, the way Eva Peron in her white dress raises her arms to greet the crowds outside the Casa Rosada — you know you've got Hal Prince to thank.
7. Cabaret (1966; director/producer)
The big-screen Cabaret that Bob Fosse directed in 1972 is one of the few film adaptations of a Broadway musical that far surpasses its source. But the reasons for that — Liza Minnelli's electric performance, mostly, plus the post-sexual-revolution ability to highlight themes that could only be hinted at six years earlier — have nothing to do with Prince's work on the original Broadway production. His staging introduced Broadway audiences to the dark and dizzying world of Berlin in the Weimar years, brilliantly cast real-life Weimar-era legend Lotte Lenya in the role of the pragmatic landlady Fraulein Schneider, and cemented a place in the firmament for composer John Kander and lyricist Fred Ebb, who had seen a modest success on Broadway the year before with Flora the Red Menace (produced by Prince, and starring Minnelli in her Tony-winning Broadway debut). It's a classic.
5 and 6 (tie). Follies (1971; director/producer) and A Little Night Music (1973; director/producer)
These two jewels of Sondheim and Prince's artistically unsurpassed decade of collaboration share a ranking here simply because I can never decide which one of them I like better. Do I feel old and defeated and lost in the past, even as I try bravely to keep myself from drowning in my revisionist memories? Then it's Follies and its world of decaying chorus girls and vaudeville theaters for me. Or do I feel vaguely more hopeful about the future, nostalgic for my dewy youth but not entirely unhinged by it, and with a sense of humor about my revisionist memories? ("No, not even figs / Raisins!") Then it's my sentimental favorite, A Little Night Music, where old age is made vastly more comfortable by the possession of a lovely estate at which to weekend in the country and laugh at the stupidity of love. Both shows — and Prince's gorgeous original productions of them — show a wise and inimitable empathy for the follies of the human heart. They share the essential kindness and humor that Prince used to soften Sondheim's cerebral remove. Both shows are about regret, both about love, both about aging without growing wiser. That they feel and looked so different is testament to Prince's ingenuity with material and form.
4. West Side Story (1957; co-producer)
Leonard Bernstein and Stephen Sondheim's iconic reimagining of Romeo and Juliet for the modern era, which Prince co-produced, did not win the Tony award for Best Musical. The honor that year went to Meredith Wilson's The Music Man, and I have, in debates of varying decibel levels, sometimes ending in tears, contended that The Music Man, a perfect jewel box of a show, deserved it. We will save that essay for another time. The point is, that doesn't even slightly diminish the importance of West Side Story. West Side Story is canon. It is the groundwater of the modern musical, an infinite aquifer from which all further works of formal experimentation, from Company to Rent to Hamilton, have ultimately sprung. That a 29-year-old Prince managed to get in on its creation is nothing short of astonishing, and crucial to understanding his essential role in the development of American musical theater.
3. Company (1970; director)
Oh, man. Company. How do you even write about Company, except to say it's the Ur-text not only of the Sondheim-Prince collaboration, but arguably of a huge swath of popular culture today? Previous to Company's explosion across the stage, the characters populating musicals were generally cowboys and gamblers and gang members and other exotic types. Rarely, if ever, had the upper- and upper-middle-class Manhattanites who made up a typical Broadway audience seen themselves so incisively rendered on a stage, in all their funny, neurotic, pretentious, jaded yet poignant yearning for meaningful connection. And if that doesn't seem momentous enough, think about this: Without Company, not only might today's musicals lack characters reflecting hip urban mores, there might also be nothing on television that didn't involve a cop, an emergency room, or a dragon. Yes, the show is that influential, whether the later works it influenced know it or not.
2. Fiddler on the Roof  (1964; producer)
Of course, Company itself was not without prior influences. It's possible to draw a straight line back from those sophisticated New Yorkers, with their vodka stingers and marijuana and talk of sexual flexibility, to the stressed-out villagers of Fiddler on the Roof. Before those urbane, uptown, intellectual, cosmopolitan (and other veiled synonyms for "Jewish") Broadway audiences were ready to see their present-day selves on the stage, they needed to see who they — or at least, their relatively recent ancestors — had once been: a bunch of dairymen and tailors struggling to keep their balance in the face of poverty and oppression. As producer of one of Broadway's most unlikely megahits, Hal Prince had the foresight to see the universality in Fiddler's specificity. It may seem obvious now, but it took a leap of faith to realize that every culture, the world over, would be able to see its own image in the little Russian shtetl of Anatevka.
1. Sweeney Todd: The Demon Barber of Fleet Street (1979; director)
With its astonishing lyrical complexity, grim Grand Guignol humor, and dazzling score that leaps effortlessly from foreboding dissonance to heartbreaking melodic beauty, Sweeney Todd may well be Sondheim's ultimate masterpiece. It is undoubtedly Harold Prince's. While the show's many notable revivals have often aimed for a pared-down vibe (John Doyle, 2005, a.k.a. the one where Patti LuPone played the tuba) or a site-specific one (the recent British-transplant production that turned the Barrow Street Theater into a working pie shop), Prince's original Broadway production went big. Its vast set evoked the classist charnel house of Victorian London, a giant backdrop against which its stars, Len Cariou and Angela Lansbury, were made up to look like nightmarish yet terrifyingly real dolls.
The result is his crowning achievement, the greatest directorial triumph of perhaps Broadway's greatest-ever director. Nobody who saw it will ever forget it (even if they were a child, and it was a filmed performance for PBS's Great Performances series). For me, at least, Prince's Sweeney Todd created no shortage of images that are now permanently engraved on my brain. Just thinking of that barber chair still gives me the shivers. And really, what more can you ask from the theater?