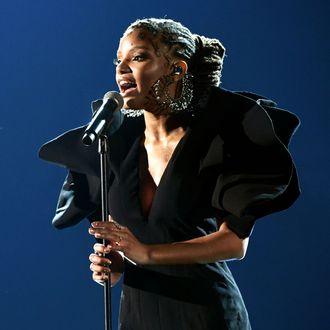 Photo: Emma McIntyre/Getty Images for The Recording Academy
Disney princesses are known for their iconic voices: Snow White singing to the birds; Mulan's lament, "Reflection"; and, of course, Ariel's "Part of Your World." Performed by Jodie Benson and famously recorded in the dark, the song is one of the most legendary princess ballads. And the legacy is only about to grow now that Halle Bailey (from the Beyoncé-crowned singing duo Chloe x Halle and Freeform's Grown-ish) has been cast as Ariel in the Disney live-action Little Mermaid. With and without her big sister, Chloe, Halle sings just like an angel, just like a mermaid, and just like a princess. Sea witches would kill for this skill. Ursula can try, but she'll be too busy trying to recover that snatched wig.
Halle and Chloe Bailey started their singing career by posting covers on YouTube. They usually sing duets, making this rare Halle solo a gem. The flower in her hair, the nature in the background … it's like any second now a bunny rabbit and deer duo will come to offer her advice and companionship.
Okay, so no, a Disney princess won't be singing about … whatever Desiinger is singing about in "Timmy Turner." But Chloe and Halle's perfect harmonies in this song (and, of course, Halle's incredible falsetto) are kind of jaw dropping.
You know a singer is confident when their official music video is a stripped-back, live version of the record. Chloe and Halle's "Cool People" shows off the pair's vocal abilities without going overboard. Halle's voice is bright and clear, sweet and soft.
Simply put: The girl has the range. Go listen to the studio version of "The Kids Are Alright" and then come back to listen to this acoustic version. They're the same, yet so unique. It's remarkably obvious that Halle has the voice for Ariel, but whatever special spin she's about to put on "Part of Your World" will be the definition of delightful. Also, no worries if "The Kids Are Alright" gets stuck in your head. We certainly will be coming back to this.
One for fun! While playing a musical game with Elle, Chloe and Halle display not only a vast knowledge of black music history, but their amazing ability to harmonize. Halle catches onto whatever Chloe sings and meets up with her in perfect time. Prince Eric absolutely doesn't deserve her.
Their arrangement of the classic anthem "America the Beautiful" makes this boring, old song (Happy belated Fourth of July!) feel brand new. Stick around until the end, when their runs are so good you might cry, but Patriots player Gronk's face is on camera so it evens out.
The kids, and I cannot stress this enough, are alright. On Genius's YouTube channel, the sisters go over their lyrics completely a cappella. It's … chilling. The clarity. The range. The crispness. Other words to describe singing that I had to Google because all I want to say is "Yasssss!" The reviews are in (I am the reviewer): Halle Bailey's performance in The Little Mermaid will more than likely exceed fans' expectations and inspire a new generation to follow their hearts.