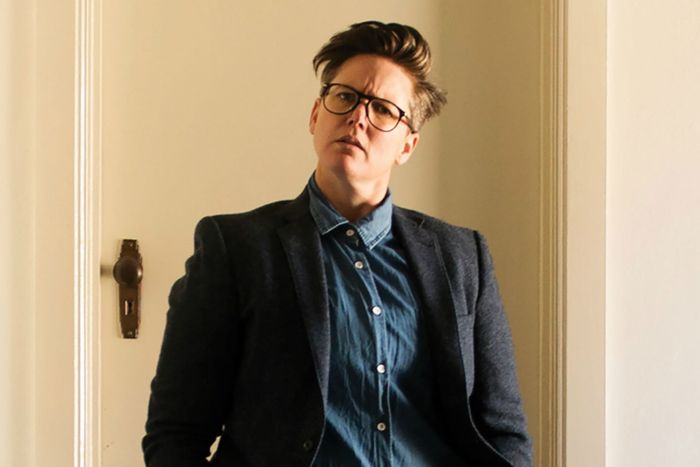 Hannah Gadsby.
Photo: Courtesy of Hannah Gadsby
This is an exciting moment for Hannah Gadsby. Last week, she received her first two Emmy nominations, for Outstanding Variety Special (Pre-recorded) and Outstanding Writing for a Variety Special, both for her breakout work on Netflix's Nanette. And this week, she begins a month's worth of Off Broadway dates in New York with her Nanette follow-up, Douglas, which will also head to Netflix next year as Gadsby's second comedy special for the streaming network.
Gadsby has brought Douglas to several other cities throughout the spring and summer. I caught a performance last month at the Kennedy Center in Washington, D.C. If you're planning to see one of the upcoming shows at the Daryl Roth Theatre, here's a guide to what you can expect from Gadsby's latest incisive and hilarious stand-up act.
Yes, Gadsby talks about Nanette.
Given how much Nanette has boosted Gadsby's profile, it would be strange if she didn't acknowledge the comedy-reinventing, debate-sparking elephant in the room. It doesn't dominate or overshadow Douglas, but Gadsby does discuss how the success of that Netflix special has affected her life and, more often than not, made things a bit uncomfortable for her. For example, success has meant that she has to deal with a lot of people, especially make-up artists and stylists, touching her, which is something she does not like. Her discussion of the makeovers she's had to endure leads to what is perhaps the best piece of beauty advice (the only piece of beauty advice?) I've ever received during a comedy show: "Don't go on a diet. Get a tailor."
Douglas is not all about Nanette, though. It's a different show.
Gadsby also notes at the top of the show that if ticket-buyers have come to Douglas expecting her to explore more personal trauma (in Nanette, she talked about being raped and attacked in a homophobic hate crime), she's "fresh out."
The last third of Nanette served as an outlet for Gadsby to express her anger about the way that comedy, and the world in general, forces marginalized groups to stay silent about their pain, and it ended on a serious note that left audiences thinking deeply more than laughing. Douglas, on the other hand, ends on a high. The audience I saw it with at the Kennedy Center immediately gave Gadsby a standing ovation, and most of them walked out of the theater still chuckling rather than pondering the gross injustices perpetuated by society. To the extent that a show that addresses autism and women's rights can be considered "lighter comedy," Douglas is a lighter show.
But don't be surprised when it gets serious.
To be clear: Hannah Gadsby's Douglas will still make sure you ponder gross injustices! In particular, her discussions of her autism diagnosis, how it has made her perceive the world, and how it affected an important romantic relationship deliver some of the more thought-provoking and heartbreaking moments in the show. She also, in her words, "needles the patriarchy" throughout Douglas, which, by the way, is technically named after her dog, Douglas. But really, that title refers to the time she told a man at a dog park that she named her pet after the pouch of Douglas, the space in the female anatomy between the uterus and the rectum that's named after Scottish physician James Douglas. On a conceptual level, what the pouch of Douglas represents — a female space that gets to be defined by a man — is a theme that connects everything in Douglas.
Yes, Douglas is a different show from Nanette. But in a lot of ways, it's also similar.
Like Nanette, Douglas is an extremely intricate, organized piece of work. Aside from occasional asides or responses to the audience — on the night I saw her, when a minor Trump joke didn't get quite the laugh Gadsby was expecting, she noted that some of her jokes might land differently in D.C. — the show is extremely well-structured and meticulously written. There are lots of callbacks to things said previously and, because she tells the audience upfront that she loves a good callback, even the technique of calling back becomes a callback. Gadsby admits at one point that she can't think of anything more fun to do than rearrange the furniture in the room. You get the sense that she did a lot of deliberate rearranging while writing Douglas. But what the room looks like on show night is pretty much set.
In Douglas, she leans even harder into Renaissance Art comedy.
In Nanette, Gadsby, who studied art history, successfully used the work of artists like Vincent van Gogh for the sake of humor, and to make deeper points about mental illness and what we expect both of art and of women who make art. In Douglas, she devotes an entire section of her show to commenting on the weirdness of what's in Renaissance Art, complete with a slideshow presentation. As she does so, she even calls out the critics who accused Nanette of being a TED Talk or a lecture rather than stand-up comedy. "You want a fucking lecture?" she asks cheekily, then dives into what, for the record, is comedy that happens to be about art and involves visual aids — not a lecture.
Her set has very strong feminist overtones.
Gadsby has always openly discussed what it's like to live in society as a woman and a lesbian, and Douglas doesn't divert from that. She comes up with some especially inspired ways to discuss the benefits of being a white man. Take her discussion of the Where's Waldo? books, which sets her off on a riotous rant about why the hell we continue to teach children to search for a GPS-deprived rube wearing red and white stripes. "If you want a picture book of white-male privilege, there's Waldo, who doesn't make any effort to be found but fully expects everyone to go looking for him." Honestly, I will never look at a Where's Waldo? book the same way.
In case you think this "guide" is spoiling things, don't worry. Gadsby is going to (sort of) do that for you anyway.
At the beginning of Douglas, Gadsby walks onstage and proceeds to share a pretty detailed outline of what's going to happen in the show ahead. Without telling the jokes themselves, she mentions that she's going to talk about a breakup, do a presentation about art, and even make a Louis C.K. joke late in the show that we'll forget that she gave us a heads-up about 90 minutes earlier. Sure enough, when she gets to that joke, which I won't reveal, it works on multiple levels, exactly as promised: It's funny on its own merits, it's funny because Gadsby had already warned us about it, and it's funny because Gadsby told us it would be extra funny when we realized we forgot about it, and she was absolutely right.
In Nanette, Hannah Gadsby's brain always seemed to working faster than ours was. In Douglas, it's still cranking at top speed, and it's a pleasure to try to keep up.