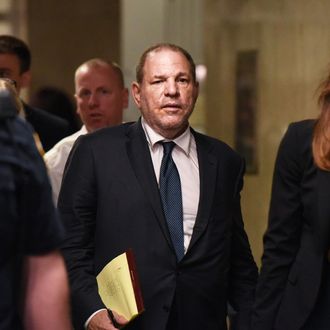 Photo: Stephanie Keith/Getty Images
Harvey Weinstein has been "railroaded" by the #MeToo movement, one of the new lawyers on his sexual-assault case said Thursday morning after a court proceeding on yet another shakeup of the producer's legal team.
Chicago-based attorneys Donna Rotunno and Damon Cheronis recently signed on to Weinstein's sexual-assault case following a recent report that lawyer Jose Baez (and famed member of Casey Anthony's defense team) wanted to jump ship. During today's proceeding, Baez indeed asked to withdraw from the case. When Justice James Burke asked "is that what you want, Mr. Weinstein?," he nodded and appeared to mumble "yes."
While the proceeding was marked by mild drama — after Burke okayed Baez's request, he called him to the bench for a private conversation, prompting another Weinstein lawyer, Arthur Aidala, to object — the team's press conference revealed more about Rotunno and their strategy for dealing with witnesses who are women.
Rotunno — who is reportedly known for having "specialized in cases involving men accused of sexual assault" and is "by one estimate … the busiest female attorney in this particular niche in the country" — voiced criticism of the #MeToo movement. When a reporter asked Rotunno if Weinstein had been "railroaded by the #MeToo movement," she responded, "Absolutely. Those are my initial impressions. Absolutely. I believe he has been railroaded."
She said that movements "allow emotion to take over and ignore the facts and evidence." In response to a question about the repeated changeups on Weinstein's legal team, Rotunno effectively said her gender would be an asset for the defense.
"I think the issue with regards to the lawyers has been misinterpreted by the press," Rotunno said. "I think Mr. Weinstein has had excellent lawyers and excellent representation. I think just as if [you] were casting a movie, this is a circumstance where he needed the right lawyers, and I think this type of a case requires the right lawyers."
"I think a woman standing here could make a difference," she said. "I think I may view things a little bit differently."
Rotunno was then asked how being a female lawyer on Weinstein's case was different than being a male lawyer on his defense.
"It creates a different atmosphere in terms of my ability to have a conversation with someone on the witness stand," she said. "I think it's a little bit more effective to have a woman asking a woman questions. I think it can come across in a way that might not seem bullying or offensive in any way."
She was also asked about her comment in Chicago about being able to "get away with a lot more in a courtroom cross-examining a female."
"Absolutely," she said with a slight smile. "Cross-examining a woman."
Lawyer Gloria Allred, who represents one of the accusers in this case as well as a witness, slammed Rotunno's comment in Chicago that  if a male lawyer goes after a female accuser "with the same venom that I do, he looks like a bully. If I do it, nobody even bats an eyelash. And it's been very effective."
"I do not believe that it's appropriate to go after a victim on the witness stand with 'venom,'" Allred said in reference to that comment.  "If this is Ms. Rotunno's strategy, and if she believes that because she is a woman she can get away with it, she may find that a New York jury may be turned off by that tactic."
"They may not agree with her that she gets a pass to do that simply because she's a female defense attorney," Allred said.
Weinstein, who faces five counts for alleged nonconsensual encounters with two women, is expected to go on trial in September.
Today's proceeding took place some six weeks after news of a tentative $44 million settlement resolving civil litigation between Weinstein, accusers, and board members of his former company.
Shortly thereafter, however, it was revealed that the proposed settlement would only involve some accusers. Several high-profile accusers, including Ashley Judd, quickly said no to any possible deal.
"My lawsuit against#harveyweinstein is ongoing and I intend to take him to trial," Judd tweeted.