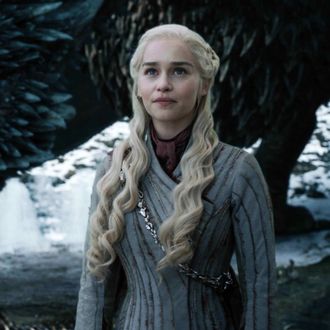 Game of Thrones
' record 32 nominations for its final season contributed to HBO's Emmy dominance this year.
Photo: HBO
A year ago, relative newcomer Netflix shocked Hollywood by landing more Emmy love than HBO. Today, cable's premium pioneer struck back: HBO snagged a stunning 137 nominations, crushing runner-up Netflix's tally of 117 noms and landing the most nominations ever for any network or platform.
A record tally of 32 noms for the final season of Game of Thrones certainly helped, but HBO's massive haul was also powered by a white-hot limited series (Chernobyl), the most-nominated variety series (Last Week Tonight With John Oliver), a pair of critically loved comedies (Barry, Veep), and two strong limited series (True Detective, Sharp Objects). While Emmy forecasters had expected HBO to take back the Emmy nomination lead, the overwhelming nature of its dominance was stunning nonetheless.
HBO's big year came despite the fact that one of its main hopes, Veep, actually had an off year ("only" 9 nominations, down from 17 in 2017) and even as its main rival in the premium TV space still managed to do very well with Emmy voters. While Netflix had to settle for second place in the tally race, the streamer actually managed to increase its overall numbers versus 2018, racking up five more noms than last year.
Moreover, Netflix had its best-ever year for nominations despite the absence this Emmy season of its biggest commercial hit (Stranger Things), one of its biggest awards-bait shows (The Crown), and the near-total collapse of its original Emmy darling, House of Cards, whose swan song was tainted by the scandal surrounding former series star Kevin Spacey. (While Robin Wright still landed a nom, the series notched just three mentions, by far its lowest tally ever.) Netflix managed to run up its total by playing in virtually every major category, getting noms in races as diverse as reality competition (Nailed It!), animated series (Bojack Horseman, Big Mouth), and short-form (It's Bruno!, Special), while also overwhelming the variety-special category with its star-powered presentations (including Beyoncé's Homecoming and Springsteen on Broadway). The debut season of Russian Doll also was an Emmy giant for Netflix (13 nominations) while Ozark broke through in its second season of eligibility, notching 9 noms (versus 5 last year).
While Netflix and HBO were by far the biggest Emmy players, a few other platforms had stellar seasons. Amazon's Prime Video more than doubled its overall tally, landing 47 noms (up from 22 last year). The Marvelous Mrs. Maisel once again led the way, with its best-yet 20 nods making it 2019's most-nominated comedy, but it was joined this year by season two of Fleabag, which scooped up an impressive 11 noms, well ahead of previous years' favorites such as Veep (9 noms) and Glow (5). AMC Networks (AMC, BBC America, IFC, and Sundance) also had an outstanding year, with their respective Better Call Saul, Killing Eve, Documentary Now!, and State of the Union combining for 26 nominations.
Not every network prospered in the Emmy tally. FX Networks fell from 50 nominations last year to 32 this year, but that actually was about what was expected, given the absence of both Atlanta and The Americans. NBC, which got out of the live-musical game this year, saw its Emmy tally suffer substantially, dropping from 78 to 58. And while The Handmaid's Tale still managed 11 nominations with some leftover episodes from the 2017–18 TV season, Hulu dropped to 20 nominations (versus 27), with buzzy comedies Shrill and Ramy completely overlooked and PEN15 garnering just one nomination (for writing).
The good news for these networks, and the others that didn't live up to past Emmy glory: The awards-season pendulum will likely swing wildly next year. HBO won't have Game of Thrones or Veep, opening up some key drama and comedy races. And while there's nothing concrete to suggest it will happen, there's been buzz — or perhaps just wishful thinking by some networks — that the TV Academy might opt to expand the key categories to ten nominees. If that happens, HBO's record for most-ever Emmy noms could be toppled.