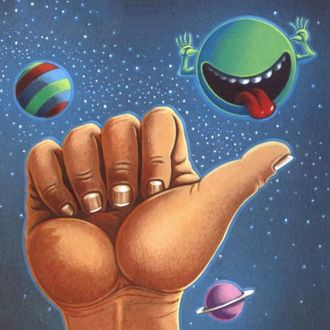 The Hitchhiker's Guide to the Galaxy
.
Photo: Pan Books
The Hitchhiker's Guide to the Galaxy is heading to American television thanks to Hulu. According to Deadline, the popular British science-fiction series created by Douglas Adams — which originated as a BBC radio program and has expanded into everything from novels to stage shows to a video game to a 2005 feature film starring Martin Freeman — will be adapted as a television series for the streaming network. It's not the first time the series was translated to television; following the success of the first radio series, a six-episode show starring Simon Jones and David Dixon was produced by the BBC and aired back in 1981.
Former Lost showrunner Carlton Cuse and Jason Fuchs (Wonder Woman, Ice Age: Continental Drift) are teaming up to write and produce the Hulu TV adaptation, which will, of course, center on the "intergalactic adventures" of the series's star, Arthur Dent, "following the destruction of the Earth by the Vogons, a race of unpleasant and bureaucratic aliens." In addition to the Hitchhiker's project, Cuse also serves as showrunner on the long-in-the-works Locke & Key series, which officially moved from Fox to Hulu to Netflix last year.