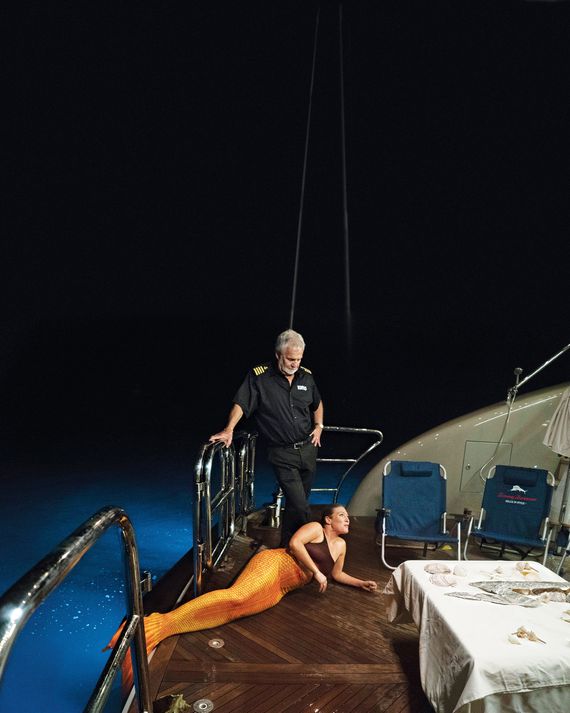 Captain Lee Rosbach and a crew member, Raquel "Rocky" Dakota, the season-three third stewardess.
Photo: Bravo/NBCU Photo Bank via Getty Images
When Ashton Pienaar fell overboard during the filming of Below Deck's sixth season, it almost ruined the party. A Sarasota real-estate agent named Brandy had chartered the 185-foot superyacht and its crew, which are the focal point of the Bravo reality show, so she and her "wild girlfriends" could celebrate their birthdays with "tequila in their hands at all times." But enjoying those drinks had to be put on hold after a line tangled around Pienaar's leg and yanked him off the boat.
The rope, towing a support boat called a tender, dragged Pienaar, a former bodybuilder and exotic dancer turned deckhand, by the ankle as he struggled to keep his head above water. Deckhand Rhylee Gerber called "Man overboard!" into her radio, Captain Lee Rosbach killed the propellers, and a cameraman stopped filming to loosen the line and help rescue him.
Three million people tuned in to the resulting episode, the 11th of the season, to see reality clash with "reality" and briefly be given real human stakes.
Below Deck stars a crew of young, good-looking men and women who work for Rosbach, their exacting boss, fighting and hooking up with each other while serving the needs of entitled, often drunk guests who'd paid tens of thousands of dollars to be indulged with foam parties, 12-course tasting menus, and ungodly amounts of green juice on a floating Mar-a-Lago. (In one episode, the family that inspired The Blind Side, the Tuohys, were aboard and requested a tailgate party.)
What differentiates Below Deck from a flotilla of other reality shows is the degree to which viewers are brought into an environment with its own vernacular and specialized skills, in which the stars have to actually work — and not in the manner of those on, say, Bravo's Vanderpump Rules, where it doesn't really matter if a patron gets his margarita on time.
That blend of setting and tension has quietly turned the show into a ratings dreadnought (by basic-cable standards). Season six was its most watched, averaging almost 2.6 million viewers per episode; among audiences under 50, it was the No. 5 reality show on all of cable. The show's first spinoff, Below Deck Mediterranean, has done nearly as well: Its third season averaged 2.4 million viewers in 2018, and its fourth (currently airing) is on track for the largest Below Deck audience ever. A second spinoff, set on a fancy sailboat, was announced earlier this year.
The idea for Below Deck came from co–executive producer Rebecca Henning, who, back in the '90s, had worked on a yacht owned by a wealthy New York family. Years later, when she and her husband were working in TV, she pitched the show to Courtland Cox, the producer behind Rock of Love With Bret Michaels and Flavor of Love Girls: Charm School. Cox brought it to his boss Mark Cronin at the production company 51 Minds; they made a sizzle reel at the Fort Lauderdale yacht show with the help of Below Deck's future chief stewardess Adrienne Gang.
Downton Abbey was popular at the time, and Cronin and Cox leaned in to the upstairs-downstairs culture of yachting. Crews give up their lives on land in exchange for adjacency to extreme wealth. It was a perfect fit for Bravo, a reality-TV haven that has long offered viewers the opportunity to be income-inequality voyeurs through programs like Real Housewives and Million Dollar Listing. Bravo exec and Watch What Happens Live host Andy Cohen was an early champion, and the network ordered the series in the spring of 2011.
"When Bravo suddenly said, 'We love the show, let's make the show,' I had this moment of panic, of like, Oh dear God, I have no idea how we're going to make this incredibly complex show," Cox admits.
The first hurdle, which almost sank the show, was the reluctance of yacht brokers to allow a production company to hire a group of aspiring reality-show stars to crew their very valuable boats and film the very possibly disastrous results. The owner of the boat used on season one — the 164-foot Cuor di Leone, renamed the far-easier-to-pronounce Honor for the screen — was the only one who agreed. The day Cox walked on deck for a scouting tour, Rosbach was the captain who showed him around. "When a new crew member walks on Captain Lee's yacht on Below Deck and he gives them that sort of cockeyed, suspicious look, I know exactly what that is, because I had the exact same experience," Cox says. "I was like, Oh, this guy's not messing around."
And Rosbach admits to being skeptical. He could tell Cox had no idea what he was doing. Rosbach recalls thinking, "It's going to be a painful learning experience if it continues."
As Cox toured the boat, taking in the engine room, the spotless teak decks, and the Jet Skis, he realized his biggest challenge would be casting. Reality producers often fish for contestants by looking for people who behave outrageously at nightclubs or music festivals, but because the crew actually had to operate a boat, Below Deck's producers couldn't just hire any unhinged extrovert eager for fame. "You can't fake being a yachtie, because it's a tough job," says Cronin. The cast would also need proper safety certifications and training. So with Gang's help, Cox and his team found people by going to crew houses, where workers stay between jobs, and spreading the word in Fort Lauderdale while shooting the sizzle reel.
Producers had initially wanted the show's captain to be young and handsome. They thought they'd found their man in Aleks Taldykin, a yachting pro who auditioned because the economy was still in a postrecession slump and he needed a job. But according to Simon Tusha, who owned the charter company that rented the boat to 51 Minds, the yacht's owner was uncomfortable with Taldykin taking the helm, even though he was technically qualified. Right before filming began in St. Martin, producers and the owner asked Rosbach. He agreed because his boss asked him to.
"Lee was really pissed, which was really funny because now he loves it," says Taldykin, who thought about quitting the show before producers persuaded him to stay on as Rosbach's onscreen No. 2. (Taldykin left after one season and now runs his own yacht-charter company.) The switch ended up being a brilliant decision. After Below Deck's 2013 debut, Captain Lee immediately became its biggest star when he kicked the show's first charter guests off the boat after a crew member discovered a white powder and rolled-up bill in one of their cabins. Rosbach was exactly what audiences wanted a captain to be: a no-nonsense authority figure who could puncture anybody's sense of entitlement, no matter their tax bracket. His white hair and chunky gold dolphin jewelry glittering with diamonds certainly help too. (Last year he published a memoir, Running Against the Tide: True Tales From the Stud of the Sea, and has 224,000 Instagram followers.)
"Yachting isn't for everybody, and there's a lot of pressure because you've got a lot to do and a very short time to get it done," Rosbach says. "Some people can handle it, some people can't."

Rosbach doesn't pick the crew, but he fires them at his discretion and says he runs the boat on the show the same way he always has in his 30 years on the job. Most cast members don't last more than one season, two if they're lucky. Each season, some seem less concerned with running the boat well than getting screen time. That said, while most are at the very least competent, producers do seem to try to find one or two completely incompetent people every season, and viewers wonder if those people will get fired, which they sometimes do.
Obviously there's a great deal of sex in confined spaces. Many yachts in real life forbid intra-crew relationships, but that wouldn't make for much of a reality-TV show. Cabin cams regularly capture the cast changing and hooking up. But relationships almost never work out, because they're on a boat on a reality show and you really can't escape the person or the terribleness of being on-camera.
Part of the show's alchemy lies in the way it portrays how proximity to wealth can change people. "When you first get into yachting, your taste kind of elevates because you're around such wealthy people," says the show's chief stewardess, Kate Chastain. "You get a tip and you're like, I earned this. You would never usually splurge on that, but you become much more comfortable with splurging." This is why deckhands don't think twice about throwing down their tip money for $12,000 bottle service on their nights off or for a "starter watch." Chastain says she can spot yachties from afar, whether they're in uniform or not. "If it's a guy, and he's got a kind of new, kind of nice watch and kind of nice sunglasses — we're not going to push full-on Rolex, that's a captain," she says. ("I was wearing a Rolex," says Rosbach, recalling the first time he and Chastain met. Boat captains make on average $1,000 per foot of boat length per year, he tells me; the boat in Below Deck's first season was 164 feet.)
One thing that isn't quite real about the show: While the people who charter the boats on Below Deck pay for their passage, they receive around half off the boat's usual price and don't get to stay aboard for more than a couple nights at a time. It's still an eye-popping amount of money — guests who stayed two nights on the boat used for season six would have spent around $42,000 plus a cash tip — but much less than the industry norm. Chastain says most regular charter customers would never appear on the show (they can do without the exhibitionism discount), which means fans don't get to watch the superrich who actually live #yachtlife.
Instead, they get Sarasota real-estate agents named Brandy. The day Pienaar went overboard, she and her squad set down their tequila to grab the railing on the back deck and peer over for a better look at the man flailing in the water. "That was so scary," Brandy said when he emerged unharmed except for a minor foot injury, and she and her girlfriends were soon distracted by a lunch of flank steak with red-wine reduction and turmeric-infused shrimp.
Rosbach hasn't been able to shake off the accident so easily. It was the only near-death mistake in the show's history and the first time Rosbach had a man overboard in his career. It's an incident he says he still thinks about "all the time," and one that yachting professionals not affiliated with Below Deck say they can't imagine happening under normal circumstances. Of course, in the show's own complicated way, that's more or less the point.
Additional reporting by Josef Adalian.
*This article appears in the July 22, 2019, issue of New York Magazine Subscribe Now!