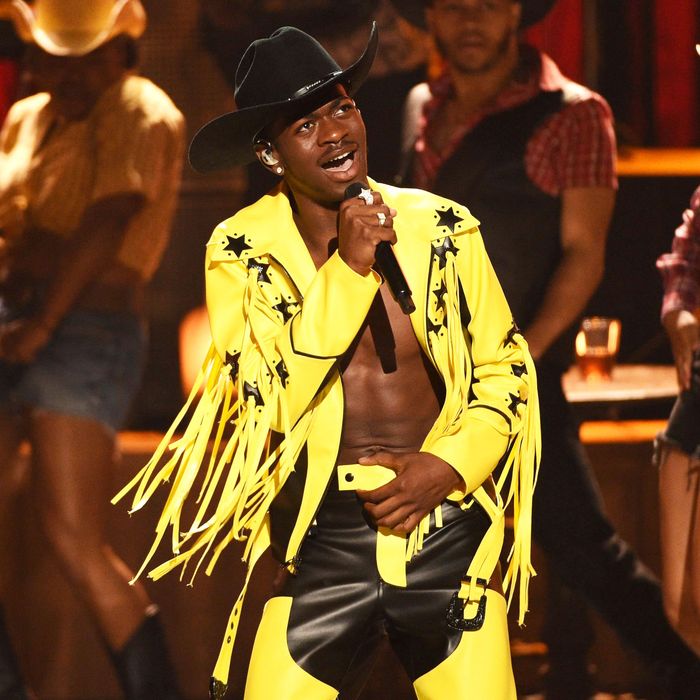 The latest "Old Town Road" remix, featuring Young Thug and Mason Ramsey, is basically just insurance at this point.
Photo: Chris Pizzello/Invision/AP/Shutterstock
Every week, Vulture runs through the best, most interesting, and sometimes most confusing rap releases and other news. In this installment: Lil Nas X releases yet another "Old Town Road" remix to go for chart history; the return of Eve; big new releases from Post Malone and, uh, Ed Sheeran; and Jermaine Dupri faces the wrath of women in rap.
Lil Nas X ft. Billy Ray Cyrus, Young Thug, and Mason Ramsey, "Old Town Road (Remix)"
This would be crushingly cynical if it weren't still, improbably, kind of fun. Lil Nas X's latest remix to his star-ascending juggernaut — the third, following the one that features only Billy Cyrus and the one that added Diplo to the mix — will likely extend the song's reign at the top of the Billboard Hot 100. Just two more weeks at that spot and it'll become the longest-running No. 1 hit in history, beating out "Despacito" and Mariah Carey and Boyz II Men's "One Sweet Day." (It's already been there for 15 consecutive weeks, a record for a hip-hop song; the three closest contenders from the genre are Eminem's "Lose Yourself," the Black Eyed Peas' "Boom Boom Pow," and Wiz Khalifa and Charlie Puth's "See You Again." It's also a record for an openly queer artist, this week surpassing Elton John's "Candle in the Wind.")
It's a testament to Lil Nas X's extremely online charm that he's yet to mortgage any of his goodwill, even after what seems like years of memes about the same song and a decidedly lackluster debut EP. This remix smartly adds Young Thug — whose "Family Don't Matter" was an admitted influence on "Old Town Road" — and Mason Ramsey, who vaulted to fame through similarly viral shenanigans, and acts as some added insurance, on the off chance that the song needs it, to boost its numbers and keep "Old Town Road" at No. 1. (It'll be challenged on next week's charts by Billie Eilish's own strategic new remix to "Bad Guy," featuring Justin Bieber; her solo version has been gaining ground on "Old Town Road" for weeks and currently sits at No. 2 on the Hot 100. That said, "Old Town Road" has already blocked one Bieber collaboration from a No. 1, so this could get interesting.)
Post Malone ft. Young Thug, "Goodbyes"
It's of note that Young Thug appears on two different, extremely high-profile songs this week; it should also be noted that this continues his strange commercial non-trajectory, where he's always around when the proverbial A-list is assembled, but seldom on his terms or with his own solo songs. His verse here is one of his strongest in some time: warbled, pained, unusually linear. The rest of the song sounds as if a Dave Matthews obsessive suddenly discovered Hollywood Undead.
Ed Sheeran ft. 50 Cent and Eminem, "Remember the Name"
Ed Sheeran, Eminem, and 50 Cent, brought together by Sheeran's exhaustive new collaborations experiment/album, prove to bring out the worst in each other. Sheeran's raps sound as if they were commissioned for a Disney Channel original movie; Eminem's are more whiny self-reference that disappears inside itself; 50 Cent's voice sounds, deflatingly, like it does on a bulk of his late-period material, burned-out and devoid of all the boundless character that marked his early work. Consider this a corny, atonal abomination.
Max B and French Montana, Coke Wave 4
Coke Wave 4 is cobbled together from demos that Max B recorded while serving his 75-year sentence in a state prison near Trenton and marathon studio sessions that French Montana held over the course of a week in Los Angeles. You wouldn't know it to listen to the record, which recalls the hazy, narcotic blur of the duo's seminal work from a decade ago. It is difficult to wrap your brain around the way Max, who was incredibly prolific when he was free and whose songs often included many layers of intricate, manipulated vocals, has evidently not lost a step while sitting behind bars. If this is in fact a harbinger of future Max B releases, every rapper in New York should feel put on notice.
Big K.R.I.T., K.R.I.T. Iz Here
The reasonable knock on Big K.R.I.T.'s music has always been that it's too faithful to the southern rap he grew up with, that his records are competent, smart, but a little too reverent. To K.R.I.T.'s credit, he's a dogged songwriter who has worked, over the course of this decade, to build out a persona that includes a sort of personal-trainer encouragement and a willingness to tackle topics in high-concept formats. K.R.I.T. Iz Here, an album whose title is a callback to the Mississippi native's breakout mixtape, follows TDT, his particularly strong compilation from earlier this year. The most curious thing about Iz Here is that it takes K.R.I.T.'s beats out of the equation; he's been a superb producer from the jump, but here he cedes that space to a collection of people, including Rico Love and the former Timbaland protégé Danja. Together they lead K.R.I.T. back into his wheelhouse: high-energy raps that are aspirational in a way that only occasionally centers material goods. It's bright, varied, and almost uniformly strong.
Eve ft. Konshens, "Reload"
At the turn of the century, Eve dropped three albums in just under three years; the creative high point was 2001's staggering Scorpion, which was stuffed with A-list talent behind the boards and on guest spots but dominated by the sheer force of Eve's personality. But the Philly native lost the next decade to record-label red tape: She didn't return until 2013, with the long-delayed, largely overlooked Lip Lock. "Reload," her first song in six years, is in the tradition of East Coast summer singles that gesture toward dancehall. Eve sounds potent and ready to reinsert herself into the fray.
Kool Keith, KEITH
The thing you absolutely have to understand about Kool Keith is that he opens this, his 17th solo album, with an entire song about how he gets uncontrollably horny at Foot Locker because the women look so good in the referee uniforms. KEITH is produced in its entirety but Psycho Les, a founding member of the Beatnuts, and features enough of Keith's psychedelic, totally singular tangents to be essential whether you've followed him since the Ultramagnetic days or just stumbled in looking for some Jordans.
Kanye West Covers Forbes
Kanye West appears on the current cover of Forbes magazine, a publication that describes this current era as "by far the best stretch" of West's career. That confusing optimism stems from the apparent commercial success of the Yeezy line, which Forbes says is expected to gross $1.5 billion this year. The story is filled with endearingly insane points of excess (he flies out a crew from Europe to repair scuffs on the custom floor in his home) and depressing fealty to corporatespeak ("I'm a product guy at my core"). The most bizarre bit, though, is the revelation that Kanye has quietly been working on a series of prefab shelters for people who are homeless, each structure designed to resemble sets from Star Wars.
Jermaine Dupri Called Out Over Comments on Women in Rap
During a recent interview with PeopleTV, Jermaine Dupri was unable to name a female rapper he currently enjoys. He said, instead:
"I can't really say. The only reason why I can't say is because I feel they're all rapping about the same things. I don't think they're showing us who's the best rapper. I think they're trying to show — for me, it's like strippers rapping. And as far as rap goes, I'm not getting who's the best rapper. I'm getting like, 'Okay, you got a story about you dancing in the club, you got a story about you dancing in the club, you got a story about you dancing in the club.' It's like, 'Okay, who's going to be the rapper?' At some point, somebody's going to have to break out of that mold and just show us — talk about other things, just rap about other things besides that."
Those comments were, quite understandably, met with considerable backlash: from Doja Cat and Cardi B on Instagram, from Ari Lennox in a freestyle, and countless others, including a handful of male artists, most prominently 6lack, who was unimpressed by Dupri's attempt at spinning the situation into a "So So Def Female Cypher."
Nicki Minaj Cancels Performance in Saudi Arabia
Nicki Minaj has pulled out of a scheduled festival performance in Jeddah, the second-largest city in Saudi Arabia. "After better educating myself on the issues, I believe it is important for me to make clear my support for the rights of women, the LGBTQ community, and freedom of expression," Minaj said in a statement to the Associated Press, referencing controversy over a variety of the Saudi Arabian government's positions on a number of human-rights fronts.
Fraud Suit Against Ja Rule Dismissed
Last week a judge in Manhattan Federal Court issued a 32-page decision dismissing a lawsuit that accused Ja Rule and a man named Grant Margolin of fraud. Margolin was the chief marketing officer for Fyre Fest, the ill-fated destination music festival for which Ja had become the most visible spokesperson. The suit was brought by some of the festival's attendees. (The debacle has been the subject of two documentaries; its chief architect, Billy McFarland, is serving a six-year prison term and has been ordered to forfeit $26 million.) "There is no assertion that the Festival when first conceived or introduced to the public was intended not to go forward or that defendants intended not to perform by organizing the advertised amenities and accommodation," the judge wrote.