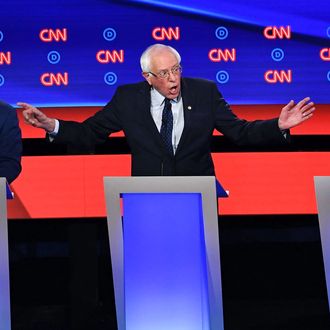 "I wrote the bill!"
Photo: Brendan Smialowski/AFP/Getty Images
The second Democratic presidential debate of the 2020 election cycle drew solid but far from spectacular ratings for CNN on Tuesday. Per the cable network, 9.2 million viewers watched across three platforms (CNN, CNN en Español, and digital), with the vast majority of the audience (8.7 million) coming from the main CNN feed. This isn't a bad number, historically: As CNN pointed out, it's the second-most-watched Democratic debate in the network's history. But compared with more recent history, it's a decidedly disappointing number.
Just last month, NBC News's two Democratic debates averaged 15.3 million (night one) and 18.2 million viewers (night two). And in October 2015, CNN's first Democratic debate of the 2016 cycle notched an audience of 15.3 million. To be fair, the NBC debates were simulcast on MSNBC and two broadcast outlets (NBC and Telemundo), expanding the potential audience for its telecasts. What's more, the 2015 debate was the first major showdown of the primary season between Hillary Clinton and Bernie Sanders, it aired in the fall, when overall TV viewership figures are higher, and it featured all the major candidates running at the time (unlike this year's two-night events).
Still, CNN had to be hoping for better numbers, given both NBC's results last month and the general increased interest in politics since Donald Trump took office. According to Variety, CNN was charging advertisers around $110,000 for a 30-second spot — about 10 times its usual prime-time rate. The cable network was also asking ad buyers to make an upfront commitment to spend $300,000 before they could buy time in the debates. CNN and its advertisers tend to target adult viewers between the ages of 25 and 54, and Tuesday's debate drew a 2.4 rating in that demographic — about 10 times the number that CNN's prime-time shows drew on Monday.