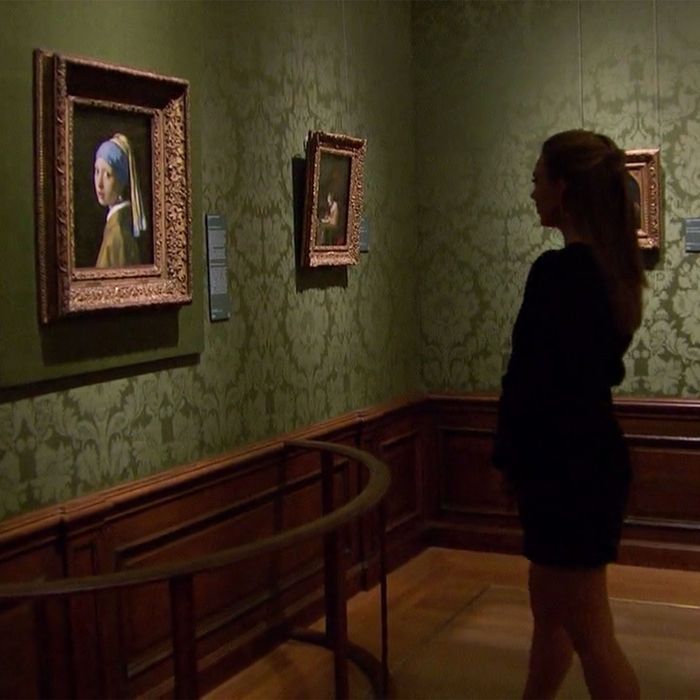 In one of the classiest Bachelorette dates in recent memory, windmill enthusiast Hannah Brown and her since-eliminated suitor, Mike, got to push prop food around in an opulent room at the Mauritshuis — a museum mecca for Dutch art in the Hague. The Rembrandts, Vermeers, and Holbeins were all on private display for the lovers to soak in, with one particular painting even reducing Brown to tears, much to her surprise. If Brown's Stendhal syndrome inspired you to call up the Mauritshuis to ask for date (or breakup) rates, Vulture can save you the transatlantic call: It's a mere $10,000 to rent out the museum's "golden room" for the evening, and that doesn't even include all the cushy extras.
"It has never happened before that a couple rented it out. It's quite expensive and quite glamorous," a Mauritshuis spokesperson told Vulture. "That doesn't even include the catering." Per the museum, the show's producers scouted a few "artsy" destinations in Amsterdam and the Hague before making a verdict. As the Mauritshuis refused to close early to accommodate filming ("We weren't going to deprive visitors from all over the world of the paintings"), the couple's date was filmed late, until about 2 a.m. "The show's producers also went to the Rijksmuseum. When they called us they said, 'The Rijksmuseum is nice, but the Mauritshuis is better.' So they asked us if they could shoot here," the spokesperson added. "They wanted a nice ambience — something really old and really Dutch. The Bachelorette is really well-known in Holland, so we were honored that they chose us."
The spokesperson stressed that everyone involved in the production was "extremely polite and nice," and that Brown was genuinely moved to tears by the art — to the point of needing to get her makeup retouched. "The lady who is the center of attention came in, and she burst into crying in front of one of the paintings," he said. "The director said, 'Wow, keep rolling; this is a beautiful scene.'" It really was, especially when you realize the symbolism.