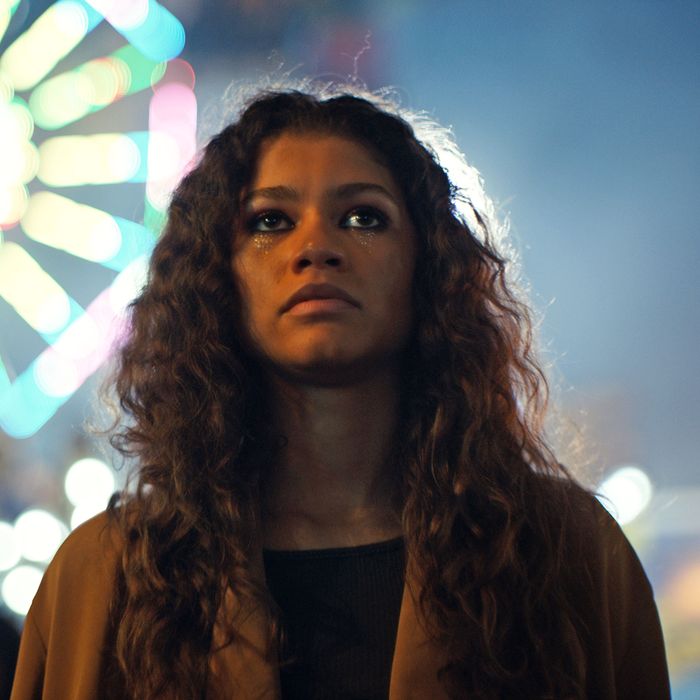 Zendaya as Rue.
Photo: HBO
The primary function of Euphoria — HBO's new drama starring Zendaya as a drug addict with incredible skin — seems to be to make adults pause and ask, "Wait … are the teens … okay?" It's the sort of show that begs to be described as "gritty," painting a rather stark portrait of Gen Z as a bunch of nudes-crazed, molly-popping depressives who mount each other in pools and have public orgasms atop carousels. I love it! But I often have a hard time trying to figure out whether the show is meant to be a genuine reflection of the Gen Z experience, or a sort of elevated, Hunter S. Thompson fever dream. Which brings me to its eye makeup.
Like the show itself, the eye makeup on Euphoria is unhinged and gorgeous. I've never seen anything like it, and I think about it eight times per day. In one scene, Zendaya's protagonist, Rue, paints glittery golden triangles underneath her eyes and heads to a local carnival. In another, Rue's best friend and love interest, Jules (played by incredible newcomer Hunter Schafer), doodles gigantic starbursts on the corners of her eyes and goes roller-skating. Maddy (Alexa Demi), head cheerleader and long-suffering girlfriend of the local closeted jock (Jacob Elordi), attaches gigantic crystals to her eyelids before heading to school.
On last week's episode, a flashback to Maddy's childhood revealed she had been meticulously applying small objects to her eyelids since middle school. I began to wonder, yet again, about the show's relationship to reality: Does Euphoria want us to believe that Teens Today are actually gluing pearls to their eyes before algebra? Moreover, are we supposed to believe that teens on drugs are capable of performing such elaborate makeup routines? And most importantly: Could I — a non-teen with extremely questionable makeup skills — do this eye makeup on myself?
To find out, I reached out to the show's makeup artist, Doniella Davy, a very calm woman who's previously worked on movies like Moonlight and Under the Silver Lake. I asked Davy to explain the inspiration, process, and products behind three key Euphoria looks — then attempted to recreate them on my own face, which is not Zendaya's face.
The Background
Davy tells me that Euphoria's writer-director, Sam Levinson, is "obsessed with makeup," and has watched so many makeup tutorials on YouTube that he "knows the terminology and the makeup lingo." When he hired Davy, he made it clear that he wanted makeup to be "used in an emotionally evocative, expressive way, to help show the journey of the teens on the show," she says.
Davy found much of her early inspiration by scrolling through Instagram and YouTube, creating mood boards for each of the actors, then asking for their input. "It was really important to me that the actors were involved in this, because they're so invested in these characters — and it's their faces," she says. "I'd be like, 'Text me with ideas anytime — the weekend, the middle of the night.' I wanted them to feel like the decisions being made were authentic and had reasoning behind them. There were conversations about every single look."
Davy says the biggest challenge was creating an entirely fresh makeup look for every single outfit change. "It was a lot of pressure, staying creatively inspired. We shot multiple episodes at once, all out of order, never chronologically. Keeping track of all of that was the ultimate brain scramble."
And Davy confirms: The idea is that the teens are doing the makeup themselves. "The teens of Generation Z learn makeup on the internet, and they get pretty good at it," says Davy. "But we always wanted to dial in a certain level of unpolished-ness to give it that realism. Gen Z is completely redesigning what makeup can and should be used to do — they're using it to challenge beauty and makeup norms, to redefine what makeup is. They're using it to challenge stereotypical gender identities. It's definitely not just about like being pretty or using makeup in a corrective manner. There's so much cheekiness involved. There's so much irony and playfulness."
The Recreations
Subject A: Rue's Carnival Look, Episode 4
"Rue is a drug addict, and my early thought with her was, 'Wait, is she really wearing makeup? Would Rue really do that? Does she even know how to put on smudgy black eyeliner and shadow, and draw gold triangles? Would she even care to do that?'" says Davy. "But then I realized, in thinking that, I was doing the opposite of what I want to do for the show. I want to present makeup in nuanced, interesting ways, and I wanted to not have each character just be an archetype or a stereotype. Rue's a tomboy and a drug addict, but that doesn't mean she doesn't express herself through makeup."
In an early, deeply trippy scene, Rue and Jules pop pills and stare at each other, awestruck, inside a blanket fort. Davy calls the scene "the most inspiring to shoot": Jules's face is coated in gold glitter (see above), while Rue cries languid, silvery glitter tears. Davy created what she calls a "galaxy effect" by covering Schafer's face in shimmer foundation, followed by several types of loose glitter; for Rue's tears, she mixed water and "a lot of gold glitter" and let the mixture slowly run down Zendaya's face.
For episode four's carnival scene, Levinson asked for "sparkly triangles under Rue's eyes," which Davy turned into a callback to the blanket-fort scene. "I wanted them to be sort of sad-clownish," she explains. "It's all about expressing what the girls are going through; here, Rue is super upset, and having a crazy, emotional experience."
To create the look, Davy gave Zendaya a "basic smoky eye" using a burgundy shade from Kevyn Aucoin's Electropop palette, applied and blended with her fingers. She applied black eyeliner ("any standard liner will do") to Zendaya's water line and lash line, then painted the triangles beneath Zendaya's eyes with Revlon PhotoReady Eye Art in Desert Dazzle. "It looks kind of like a lip gloss, but it stays on perfectly and doesn't smudge," she says.
I began my own attempt to put gold triangles on my face on a Monday night after a workout, which was my first grave mistake, but certainly not my last. I found the Revlon glitter at CVS, but couldn't find Kevyn Aucoin's palette at Sephora (they no longer carry it in stores). Instead, I bought a similar palette called "Greek Goddess" from Lunar Beauty. To create the burgundy shade, I mixed Aphrodite and Circe and immediately resembled a person who had been punched in both eyes then contracted a medieval virus. However, the gold triangles looked so fantastic that my friends painted them on, too. We took a photo and sent it to Mindy Kaling, who was on Twitter simultaneously wondering about her own ability to pull off the Euphoria eye makeup.
Jules's Rollerskating Look, Episode 5/Jules's Daytime Look, Episode 2:
"Jules's looks are not supposed to be overthought," says Davy. "She has the confidence to be bold and brave and to just do whatever she feels like doing — whatever her mood is or whatever her outfit is, her makeup looks are never supposed to feel too planned out. They're very much about her having the confidence and freedom to express herself."
Appropriately, I couldn't decide whether I wanted to recreate Jules's roller-skating starbursts or her tie-dye-neon eyeshadow explosion from episode 2, so I combined them without any sort of permission whatsoever from Davy. For the former, Davy used the Kryolan Neon palette, which she says "functions like watercolors," plus liquid liner from NYX to draw the starbursts freehand. For the latter — which Davy calls her "favorite Jules look" — Davy coated Schafer's eyes in Suva Beauty's neon green Hydra Liner, which is activated with a brush dipped in water, then used a Viseart palette for the bright pink shade. The red and orange came from a ColourPop palette. Davy sprayed some of the shades with water to help amp up the pigment.
I was able to find exactly zero of these things in stores in New York, which Davy confirmed was pretty standard — most of them are available either online or only in professional makeup stores. But she did give me permission to find my own dupes (I ended up using this NYX neon palette). "A big part of Jules is 'fuck the rules,'" says Davy. "This look is more about mixing neons with non-neons, and using concealer brushes to pack the color on to get that high pigment."
This look was my own personal apocalypse. I tried it first on Monday night, and ended up looking like I had painted an Italian flag on my eyelids. When I attempted it again on Tuesday afternoon, it was slightly better, though still absolutely terrible in every sense.
Maddy's Pep-Rally Look, Episode 2:
"Maddy is supposed to be a wizard of all things," says Davy. "Hair, makeup, nails, outfits. Her makeup looks are the only ones that are supposed to really look professional quality, full-polished." Maddy's also obsessed with drawing on cat-eyes — but Davy wanted to make sure each cat-eye was unique. "I didn't want to keep putting her in black eyeliner," she says. Hence the rhinestones and the pearls; later in the season, Davy even glues a delicate gold chain to Maddy's eyelids. "The big thing with Maddy's cat eyes is that the tails never point up towards her eyebrows," adds Davy. "They're always pointing outwards. But the challenge there is the line work. It's like calligraphy — it takes practice just to get those lines nice."
The pep rally look was inspired by photo of Nina Simone — an "unlikely reference for Maddy," says Davy. "This makeup is supposed to be a costume. She's going all out, it goes with her cheerleading outfit."
Davy describes the look as "negative-space eyeliner": The cat eye is painted on with "any black cream eyeliner," then filled in with several ColourPop turquoise eyeshadows blended together. The finishing touch is a turquoise glitter gel from Lemonhead, and a bunch of loose crystals that Davy ordered from Amazon. "The important part of this look is it extends to her inner eye, as well," explains Davy.
In other words, in order to recreate this look, I had to accomplish the following: Paint on a precise cat eye, fill it in perfectly with blue eyeshadow and top that with glitter, paste crystals onto my own eyebrows, and somehow get makeup onto my inner eye. Traumatized after look two, I immediately began making small concessions. I went to three separate stores looking for crystals designed specifically for the face, but could only find them for nails; rather than glue nail art to my eyebrows and risk losing them, I decided to paste nail art onto my eyelids, a much more disposable body part (Maddy does this on several separate occasions, as does Nina Simone, so this is not illegal).
To preserve my rapidly waning skin elasticity, I used Stila Glitter and Glow liquid eyeshadow rather than eyeshadow AND glitter. I rubbed off and redid the cat eye approximately 500 times before deciding I would never be able to do it "like calligraphy." At this point, my eyes were rubbed raw from eye makeup remover. Rather than continue to torture myself, I bravely sent myself to work wearing nail crystals on my face.
The reactions were mixed. A woman on the phone in the hallway stopped talking for a solid ten seconds when she saw me. A man who shall remain nameless gasped aloud when he saw me, then tried to casually pretend he had not gasped aloud. Hunter noticed nothing different at first, then said I looked like I was going to a "Midsommar event." Tara saw me in the bathroom and silently placed her hands over her mouth. Jackson said I looked like someone who would carry a "tote bag of drugs." In other words, I had finally achieved my vision: I looked exactly like a teen from Euphoria.