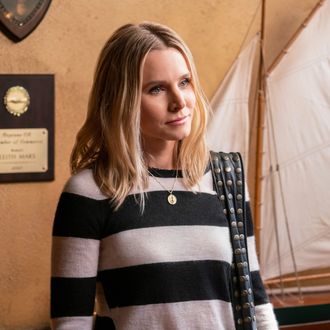 You thought you'd seen the last of me.
Photo: Michael Desmond/Hulu
If you were trying to plan out your catch-up viewing of the original Veronica Mars in advance of the premiere of Hulu's new revival series, we are deeply sorry to report that you are out of time. Timed to a panel at San Diego Comic Con, Hulu has released all eight episodes of the show's fourth season, which was originally planned to debut on Friday, July 26, a week early. Congrats to all the Marshmallows out there! Sorry if this messes up your weekend schedule!
The new season returns to Kristen Bell's grown-up former teen detective, who's back living in the seedy beachside of Neptune, California, and who gets drawn into a whole new case involving bombings during the town's spring-break festivities. Creator Rob Thomas returned to write the series, which also includes original cast members like Enrico Colantoni as super-dad Keith Mars and Jason Dohring as the grown-up bad boy and love interest Logan Echolls. Both the original series and the new edition are on Hulu, while the Kickstarter-funded movie is on HBO (though you don't really need to watch that for the revival).