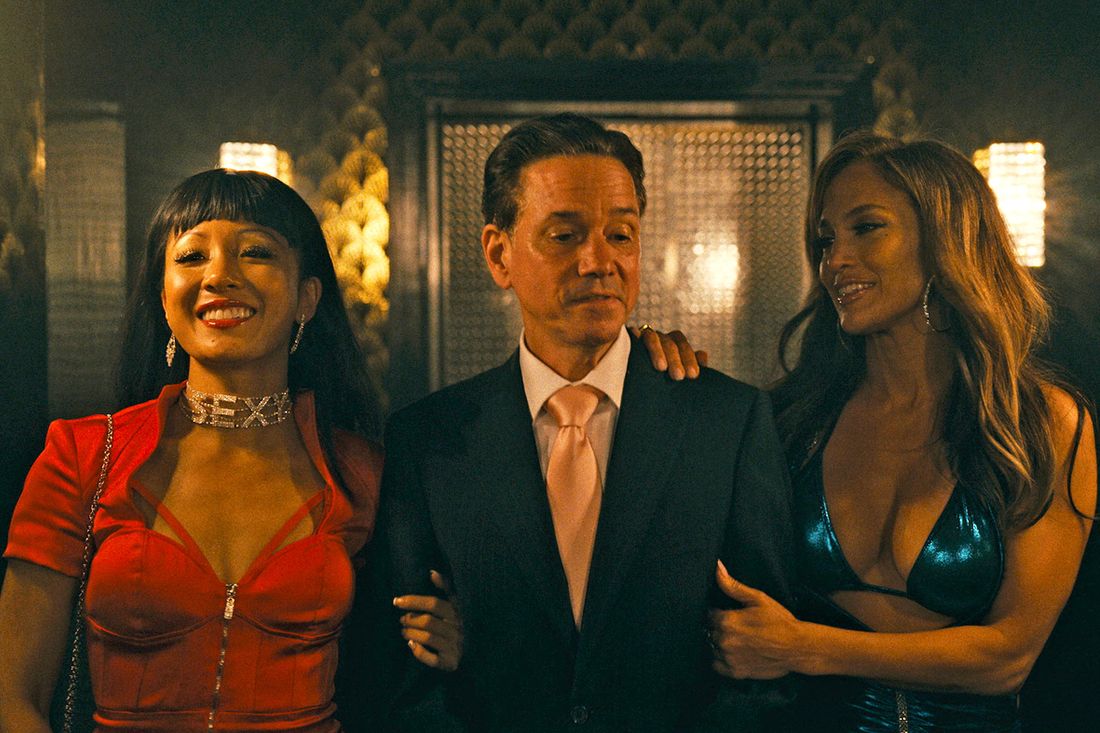 "This is bigwig played by Frank Whaley — who I still can't believe we got to play the role — a regular of Ramona's (Jennifer Lopez). This scene is the first night of Ramona and Destiny (Constance Wu) working together. Strippers often work in pairs, or groups, because it's actually a lot more advantageous to separate men from their money. And Constance's choker is incredible."
Photo: Courtesy of STXfilms
When writer-director Lorene Scafaria set out to cast Hustlers, the story of a group of gloriously scammy New York strippers based on Jessica Pressler's 2015 New York Magazine piece, she knew one thing for certain: She had to get Cardi B to star in it. Who better than Cardi, an effervescent New York stripper turned world-famous rapper, to capture the absurd, darkly comic spirit of the dancers who slyly swindled hundreds of thousands of dollars from men who never saw it coming? The only problem: Scafaria didn't know Cardi, nor was she sure how to contact her. So she did what men have been doing to Cardi since the dawn of Instagram: She slid into her DM's.
"I chased Cardi for two years," laughs Scafaria when I catch her on the phone one afternoon in mid-July, as she's deep in the process of editing and mixing the film — out September 13 — from a "big house on Mount Olympus." After she sent that bold DM, Scafaria says a mysterious person associated with Cardi's Instagram account sent back a phone number. Scafaria texted that number. "I got back a 'We know, we'll get back to you,'" she recalls. "I didn't know if I was talking to her or somebody else." Even now, a month before the film's release, Scafaria isn't sure to whom the phone number belongs. "I have two phone numbers in my cell: Cardi 1 and Cardi 2. I'm not sure if either of them are actually Cardi."
Scafaria — who was initially hired solely to write the script, but then "worked really hard" to convince Annapurna (who first picked up Hustlers, before STXfilms acquired it in development) that "the director of The Meddler should be the director of Hustlers" — pursued the rest of the stacked cast with similar fervor. "I chased Lizzo for a year," she says. "I met with Trace Lysette probably a year earlier, then wrote her a part. I knew I needed Keke Palmer so early on. I remember casting the Mercedes character and saying, 'It has to be Keke Palmer.' Jacqueline Francis, who goes by Jacq the Stripper on Instagram, was somebody I knew I wanted to write a part for as well. Mette Towley was someone I'd met with probably two years earlier."
But none of the casting really congealed until Scafaria reeled in her biggest fish: Jennifer Lopez, who plays the strippers' de facto matriarch and criminal mastermind, Ramona. "The moment I finished the script, I realized: Oh my God, Ramona is Jennifer Lopez," she says. "Jennifer Lopez is Ramona. The two of them are the same; they have all of these similar qualities. It has to be her." Once Scafaria landed Lopez, everything fell into place. "Casting was made infinitely easier once Jennifer was attached. Everybody really, really, really wanted to work with Jennifer. That was the beauty of making this movie, too: casting what felt like the right people for each part, and watching them interact the way that they should with each other."
Scafaria was particularly impressed with the way Lopez rose to the physically demanding task of playing a career stripper. "She's obviously such an unbelievable dancer, but she trained so hard-core for this. Pole dancing is not like anything else. It required muscles you don't know you have. So we did treat it a little bit like a sports movie in that way." Lopez even did a bit of field research with her fiancé, Alex Rodriguez: "She and Alex went and visited a strip club, and she was able to give me some … insights," laughs Scafaria.
Scafaria says she felt "like a matchmaker" as she watched the cast quickly bond with one another. Lopez became particularly close with Constance Wu, who plays Destiny, a newer stripper who Scafaria describes as the "protagonist of the story, who Ramona takes under her wing." According to Scafaria, Hustlers is "really focused on these two women and their friendship," and Lopez and Wu followed suit. "Constance and Jennifer love each other. There was this very beautiful sister relationship that was unfolding. And Keke and Lili [Reinhart] together, they're so adorable. Trace and Mette really hit it off. I always feel like mom. I'm like, 'They don't have to love mom; they just have to love each other," laughs Scafaria. "We had a pretty remarkable time together; it was an incredible bond for something that was shot in 29 days with 15 women."
Though Scafaria didn't get to meet the real-life dancers on whom the film is based, she says she used Pressler's article as a "jumping-off point," and turned each character into a sort of "conglomerate of people I know, have known, met while making this and researching it, and reading between the lines of Jessica's article." Scafaria was also insistent on casting Julia Stiles as Pressler herself. "The movie wouldn't work without Jessica as a character," says Scafaria. "She represents so much: the audience, me, the idea of feeling a certain responsibility to be truthful and authentic to the story." But most important to Scafaria was maintaining a sense of empathy for the characters. "I felt instantly sort of protective over them," she says. "Because I don't think they're being judged for where they ended up in the crime that they committed. I feel they're being judged for where they started. And that, for me, made it a story really worth telling."
That razor-sharp vision for what Hustlers should be was what helped her land the directing role. "I felt like I'd seen a scene in a strip club in every single TV show and movie ever," she says. "It's a setting that people have used time and time again and we've only seen that from one side, for the most part. I was fascinated by what this story represents: gender as it relates to money, the American Dream, the fact that people rarely think of women as 'blue collar.' It's certainly a period piece also, about 2007 and 2008 and the financial crisis, and how it changed this industry — and these women."