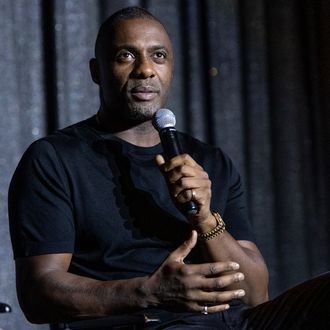 Photo: Emma McIntyre/Getty Images
On Thursday Idris Elba posted a statement to Twitter rejecting allegations made by writers Sarah Henley and Tori Allen-Martin that the actor plagiarized work done by the British duo, who reportedly spent four years collaborating with him his new play Tree. According to a blog post published Tuesday, Henley and Allen-Martin alleged that they were removed from the play's credits after being effectively pushed out despite years of work on the show, which follows a biracial young man's journey to his parents' hometown in South Africa. The production was born out of the music of Elba's 2014 album mi Mandela, which Allen-Martin also collaborated on.
In response, Idris Elba acknowledged the pair worked on developing the play, but says "new ambitions" took the show in a different direction, and that claims of plagiarism are "offensive and troubling." Instead, the actor suggests it was Henley and Allen-Martin who chose not to pursue the production's new direction under director Kwame Kwei-Armah.
"As new ambitions started to be proposed for the jump off point for development, Tori & Sarah decided they didn't want to pursue the early thoughts and declined to work any further on the project," he wrote. "This is not uncommon in the development process. They expressed their reasoning and we respected their decision. We were left without any writers and had to start work very quickly, which is our contractual right as beholder of the original idea, the album."
The writing duo is, the actor points out, at least acknowledged in the foreword of the program printed for the first preview of Tree. The production premiered at the Manchester International Festival today.