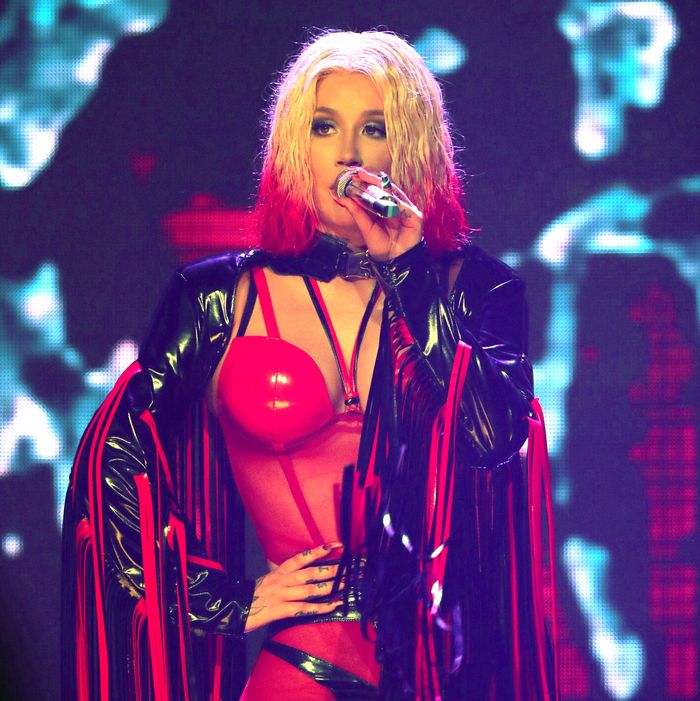 In My Defense
is a funny follow-up to the frustrations of the
Digital Distortion
era.
Photo: Jerritt Clark/Getty Images
"First thing's first: I'm the realest" is one of the epochal opening rap lines of this decade, not because it drags you into a singular worldview, the way Snoop Dogg does at the top of "Gin & Juice" ("With so much drama in the LBC, it's kinda hard being Snoop D-O-double-G…"), or because it cuts to the brutal quick of matters, the way Lil Kim did kicking off Hard Core's "Big Momma Thang" saying, "I used to be scared of the dick / Now I throw lips to the shit." The first line of Iggy Azalea's "Fancy" encapsulates a very strange, very specific moment in hip-hop history where we worried that rap music and culture were branching out in the bad way, losing the inner-city flavor that birthed them as they trickled out into less diverse, more affluent parts of the country. It was the same year Macklemore and "Thrift Shop" beat out Kendrick Lamar at the Grammys, making conversations about white privilege in rap so heated that the Seattle rapper would eventually release a single called "White Privilege." Iggy was a perfect storm for those anxieties because she wore a southern accent like costume jewelry, a favorite accessory she picked up at a thrift shop on vacation, and because she squabbled with anyone who took her to task about it (and a few who did not). In the span of two years, Azalea went from having the No. 1 and No. 2 songs in the country at the same time to sniping at collaborators like Britney Spears and Rita Ora, losing the support of her mentor T.I., and parting ways with Def Jam, who released her 2014 debut album, The New Classic, and the quick-hit reissue Reclassified.
Did Iggy wear everyone out? Or did public interest in the chipper but impersonal pop-rap embodied in her singles expire? The most successful rappers of the last five years, outside of luminaries from the '90s and '00s who were grandfathered into regency in this decade, have been elite, emotive rhymers (see: Kendrick Lamar and Chance the Rapper), wizards with melodies and the sounds of words (see: Drake, Future, and Lil Uzi Vert), and street rappers with the court cases to match the brutality in their lyrics (see: 6ix9ine, Kodak Black, and XXXTentacion). Iggy isn't any of these. She's a figure, like a Tyga or a Wiz Khalifa (who, quite tellingly, both appeared on Iggy's patchy 2018 EP Survive the Summer), who knows how to make a solid chorus and string together enough keen one-liners between them to fill out three minutes. They can be hit or miss; their music waxes and wanes alongside their ear for good beats and guests.
Iggy lucked out linking up with the successful production trio the Invisible Men on The New Classic and riding the West Coast party-music tidal wave kicked up by Tyga's "Rack City" in 2011, but she lost luster in the rollout of her shelved sophomore album, Digital Distortion, sticking to a sound that, by 2016, seemed to be in the twilight of its ability to yield fresh No. 1's. In a hip-hop era enamored of indelible hooks and undoubtable street cred — I can't help but think that Chicago drill-rap stars like Chief Keef and East Coast torchbearers like Bobby Shmurda were the bridge into this moment, because in 2010, word around town said authenticity in rap was on its last legs — Iggy asked us to walk a mile in her Louboutins but, "Work" aside, never really gave the listening audience all that much detail about what that might feel like.
In My Defense is a funny follow-up to the frustrations of the Digital Distortion era because the title and cover art are ruses. You see the star bloodied by the side of a car, and you think she's going to get into the fights and aggravations animating the last two years. The first two tracks, "Thanks I Get" and "Clap Back" are pump fakes. On the first, she throws her accomplishments in everyone's faces, planting herself at the root of the current outgrowth of women succeeding in mainstream rap. On song two, she addresses her critics — "'Cause I talk like this and my ass fat, they be saying Iggy tryna act black" — but never lands a solid clapback or addresses the thinking behind rapping in a regional dialect 10,000 miles removed from the Australian town where she was raised. She doesn't open up about what it feels like to square off against industry peers and forefathers or the sensation of being made to feel like an interloper in the culture on account of where she's from, the way she has in interviews. She doesn't cover catching her ex-fiancé, former Lakers shooting guard Nick "Swaggy P" Young, cheating on home-security-cam footage. Eight years after her debut mixtape Ignorant Art, the rapper born Amethyst Kelly is still a relative enigma.
The new album does cover nice clothes, great sex, and career independence. Iggy wants us to know that she was not dropped from Def Jam when the working relationship between the two parties began to sour. She shuffled over to Island in advance of STS and was ultimately able to secure a new deal with San Francisco hip-hop label and distribution company Empire that allows her to own her masters, sign other artists, and remain independent. That's as good a happy ending in the shadow of a hit streak like the reign of "Fancy," "Problem," and "Black Widow" as anyone could expect. (Is she taking things in stride this time and mellowing out? Her joke feud last week with Peppa Pig suggests it.) "Started" is a corker in this sense. She's saying she's not sorry about how the two years of stress between "Fancy" and "Team" went down, and that in spite of all the mess, she owns her music, and she can still pay the bills. "Commes Des Garcons" is fun swag rap. Iggy's in her sharpest form when firing subliminal disses at naysayers on "Thanks I Get" and "Started," but In My Defense mostly prefers to coast on enthusiastic money talk. The producer in residence is J. White Did It, the Texas beatmaker who scored 21 Savage's "A Lot" and Cardi B's "Lick," "Bodak Yellow (Money Moves)," "I Like It," and "Money." As such, Defense carries a strong whiff of Invasion of Privacy. "Sally Walker" and "Hoemita" both revisit the two-chord menace of "Money," but can't match the highs because Iggy isn't rude or street enough to take the beat where it needs to go.
The familiarity of some of these songs is a problem for an artist whose career has always appeared to be as much of a feat of marketing as personality and chops. The feeling that Iggy's coasting by copying is further exacerbated by "Spend It," which is lightweight in comparison to the year's other single about spending; "Freak of the Week," which must be the 50th use of Three 6 Mafia's "Slob on My Knob" flow in the last three years; and "Just Wanna," where ideas from Salt-N-Pepa's "Push It," Ying Yang Twins' "Whisper Song," and Too $hort's "Blow the Whistle" churn in a blender but never congeal. In My Defense fluctuates between the effortlessness of "Big Bag" and "Fuck It Up," songs where Iggy pays it forward by spotlighting up-and-comers Stini and Kash Doll, and the spirited but rehashed radio rap of "Pussy Pop" and "Hoemita," the latter of which, in spite of a solid verse from Lil Yachty, repurposes the flow from Nicki Minaj and Yo Gotti's "Rake It Up" in the chorus. A little more originality and personality could go a long way, but hey, In My Defense is finally out. It's an improvement over last year's EP. Iggy Azalea seems to be in control of her career for the first time in a long time. Not everyone in the game can say the same.