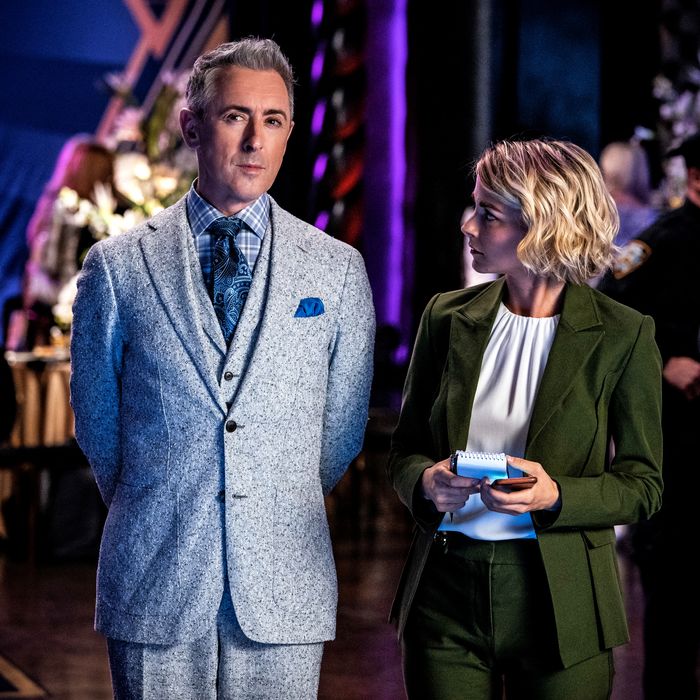 Alan Cumming and Bojana Novakovic in
Instinct.
Photo: Mark Schafer/CBS
The most frustrating show on broadcast TV this summer is Instinct, because it's obvious that the writers, actors, and filmmakers are itching to make a weirder, more enjoyable and original series than circumstances allow. Alan Cumming plays the main character, Dr. Dylan Reinhart, a behavioral psychologist and ex-CIA agent turned bestselling author who helps the New York police solve crimes (including the ongoing narrative thread of a serial killer whose rampage, we recently learned, may not be confined to the city). Apart from a few surface details, like Dylan being bitchily funny and a world-class clothes horse, the character is a standard-issue brilliant and charismatic middle-aged white dude, of a sort that has anchored so many CBS crime dramas over the decades.
But there's one striking difference: Dylan is openly gay, and his sexual orientation is presented as a key trait, though far from the only one, that shaped his personality and worldview. This might seem like no big deal in 2019, and in a wider cultural sense, it isn't, given all the cable and streaming shows that have centered featured LGBTQ characters. (Or James Patterson's Dylan Reinhard novels, which inspired the series.) But it's a very big deal on a regular broadcast network, which is where tens of millions of Americans, most of them older and more culturally conservative, still experience TV drama. In fact, Cumming is playing the first openly gay lead on a network drama in the entire history of the medium. Yeah, you read that right. Other prominent LGBTQ characters have been featured in CBS ensembles — Archie Panjabi's bisexual Kalinda Sharma on The Good Wife might be the best of the last decade — but not one has been placed at the center of a show and written into every important scene.
The thing is, Dylan is forced by his context to be as constrained, even sexless, as possible, as if the network is concerned that if they let him be too gay, or just comfortably gay, audiences (and by audiences, I mean people over 50, because this is CBS, the broadcast network with the oldest demographic) will desert them. Dylan is married to a sweet and handsome younger man named Andy (Daniel Ings), but they demonstrate physical affection so rarely, even behind closed doors, that you'd think you were watching a TV show time-warped in from 1955, when heterosexual married couples had to sleep in separate beds. The show seems to be setting Dylan up for an affair with an even younger, hunkier man, visiting Nebraska homicide detective Ryan Stock (Travis Van Winkle). But the show's track record of generating sexual chemistry between Dylan and any other man, whether it's his partner or somebody he's wryly bantering with while investigating a case, is so dismal that it's hard to imagine how this thread might satisfyingly play out.
If Instinct had just decided to be a chaste show and turned that into a stylistic choice, its timidity about Dylan's sexuality would be easier to rationalize. This same network has gotten great mileage out of a platonic romance on the long-running Sherlock Holmes update Elementary. But week after week, Dylan and Andy share screen time with Dylan's partner, Detective Lizzie Needham (Bojana Novakovic), who's embroiled in a steamy secret affair with black-ops fixer Julian Cousins (former Lost star Naveen Andrews), and they get to have sex scenes and deep, long romantic kisses, whereas Dylan and Andy are lucky to share a quick buss on the lips in passing, or a tender hand placed briefly on a shoulder. The contrast between the way the show treats straight and gay couples was highlighted strikingly in the season-two premiere, which crosscut between Lizzie and Julian's sex scene and post-coital pillow talk, and Dylan and Andy having a plain conversation at bedtime, both of them fully dressed, Andy standing in the doorway brushing his teeth. One could rationalize this as a way of setting up the affair that Dylan's probably going to have, but only if you fail to notice that the characters were barely allowed to touch each other prior to that.
Seriously, folks: This is Alan Freakin' Cumming we're talking about here, a playful imp with ambidextrous suggestive eyebrows, somebody so deliciously open in terms of his sexual bandwidth that you can believe that his characters exist at any point on the continuum of attraction (or, in the case of his magnificent turn as the Emcee in Cabaret, on all points at once). Casting Alan Cumming as the first gay lead in a network drama and then turning him to a borderline Merchant Ivory study in repression is the sort of perversity that serves no one. I'm not saying he needs to make his entrance in an upcoming episode by slinking onto a stage in a bowler hat, leather pants and suspenders with no shirt, and singing "Wilkommen," though that would objectively and scientifically be awesome. I'm just saying, For crying out loud, let Alan Cumming be Alan Cumming! Or at least let him be as rascally and insinuating as he was on The Good Wife as Eli Gold.
The show's tendency to look away from Dylan's sexuality seems to have affected the rest of Instinct as well. There's a streak of pure weirdness burbling underneath the surface of this rather cookie-cutter CBS procedural, and you can feel it even when it's not permitted to step into the spotlight and do a sexy soft-shoe. The workplace soap operas that are folded into the crime stories (including Julian taking a job as a glorified IT guy in the squad room) clearly want to go full Riverdale or Crazy Ex-Girlfriend, but can't. And Dylan's so super-competent, brilliant, and all-knowing — almost parodically — that he's right on the edge of turning into a Richard III character who knows he's starring in a drama; if he began addressing the viewer directly, nobody who watches the series would be surprised. This character is a novelist after all — but Instinct doesn't seem like the sort of thing a guy like Dylan would write, except to make fun of it.
And therein lies the problem: This show appears to be harboring a freak flag that its creators aren't able to fly. Not on the CBS broadcast network. Culturally, it's impossible. Showrunner Michael Rauch told me during a recent conversation at the Split Screens Festival that even before Instinct got a full series order, test audiences reacted negatively to any scene between Dylan and Andy. You could see the enthusiasm meter flatlining.
So why not move the show to CBS All Access instead? Behind that streaming paywall, the network has a solid track record nurturing shows that would probably be considered too edgy for the mothership network — including The Good Fight and Star Trek: Discovery — and there's no reason to think Instinct couldn't be another one. This is not a highly rated show, and it is currently being burned off during the summer, so chances of a third season on CBS are iffy anyway. But the network wouldn't have renewed it in the first place if key executives didn't believe it had potential. Why not contrive a set of circumstances that might allow the people who make the show to realize it?
That's the thing about instinct: If you can't or won't follow it, it will never be of use to you.