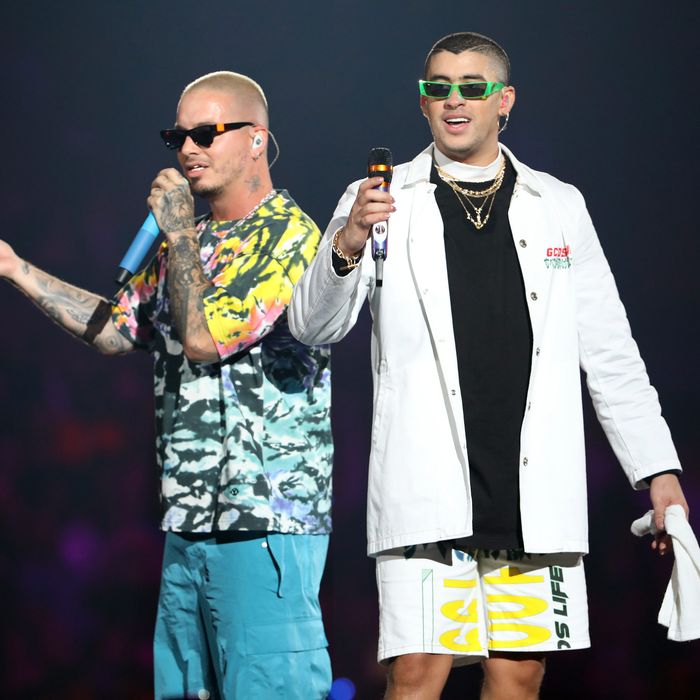 Urbano is succeeding without having to make inroads to American audiences that aren't in the know.
Photo: Alexander Tamargo/Getty Images
Oasis, the long-awaited collaborative album between Colombian reggaeton vet J Balvin and Puerto Rican Latin trap star Bad Bunny, is a little bit like Watch the Throne and a little bit like What a Time to Be Alive. Like the Drake and Future mixtape, it's a meeting of the minds between a versatile hit-maker and a nearly unflappable hook man announced and released in short order because superstars like Balvin and Bunny — who have impacted worldwide charts together on songs like Cardi B's "I Like It" and the fall 2017 jam "Sensualidad" and apart in a stream of smashes that has rocketed each artist to worldwide renown — love to make us sweat. (Bunny dropped his killer debut album X 100Pre at midnight on Christmas Eve with a day's notice.) Like Jay-Z and Kanye West, these two have been teasing this thing for the better part of a year, and it benefits from the skills each half of this big brother/little brother tandem brings to the table.
Opener "Mojaita" showcases Oasis's balance. It's a wily sex song full of messy jokes. (Bunny compares a booty to the Polynesian paradise of Bora Bora, and Balvin offers to slide in your goal like Pelé.) Balvin switch-hits, rapping verses and matching his sparring partner on vocals in the chorus. Bunny steals the show in his second verse just enthusiastically describing a day party and playing around with syllables. "Humo y alcohol-cohol debajo 'el sol-sol," he sings, celebrating drinking and smoking under the sun in a stuttering cadence that sounds like slurred words spoken under the influence. Both artists revisit the concept on "Cuidao Por Ahí," where Bunny works food metaphors, Balvin compares sex to collaborating on songs, and both make promises about what happens when their pants come off. It's music for and about raucous parties and steamy, closed-door after-parties, impossibly breezy songs whose precision could only have come from two performers in tune with their own strengths and also each other's.
J Balvin's career is a decade-long hit parade and an exercise in sanding down reggaeton's edges and fusing airy lyrics with solid hooks, a shift that mirrors the move from harsh bars to infectious melodies that American mainstream rap has seen in this decade. Bunny is the next logical step in this progression, a SoundCloud Latin trap upstart turned certified heavy hitter whose discography, just a few years in, is already a wellspring of airtight hooks and alternatingly clever, thoughtful, and crude observations about sex and relationships. Both artists have captured the attention of hip-hop and R&B insiders. Balvin has worked with Pharrell (who tapped him for a verse to try to push "Blurred Lines" into Spanish-speaking audiences), DJ Khaled, and Beyoncé, who appeared for an ultrarare Spanish-language guest spot on last year's "Mi Gente." Bad Bunny's "La Romana," and its anthemic "Pasame la hookah!" refrain, was the sound of the inner city all last winter and spring; X 100Pre's "Mia" featured Drake on the chorus.
Hip-hop's big fish are circling because they don't want to be left out. Urbano — an umbrella term that covers a range of popular styles including reggaeton, dembow, Latin trap, and bachata — is succeeding without having to make inroads to American audiences that aren't in the know. Years ago, Latinx superstars like Ricky Martin, Shakira, and Marc Anthony would treat their English- and Spanish-speaking constituents one album at a time: Martin broke through in America with "Livin' La Vida Loca," "Shake Your Bon-Bon," and "She Bangs," then returned a few years later with Almas del Silencio. Shakira hit multiple markets, releasing Fijación Oral, Vol. 1 and Oral Fixation, Vol. 2 in the same six-month stretch in 2005. There's no rush for Bunny and Balvin to work in English when they can score Hot 100 hits, international chart smashes, and global YouTube dominance without seeking listeners who don't speak their native language. Urbano bridges international sounds because the artists and the audience have the range.
Oasis's sharpest shot at keeping up the hot streak is the summery booty-call anthem "Que Pretendes," but the real earworm is "La Canción," a great song about the power of a great song. In it, Bunny and Balvin sing about struggling to get over their exes only to be swept back to square one by memories that resurface when they hear a certain song. It's a bit of wise irony. Bunny — author of sad boy anthems like "Soy Peor," "Si Estuviésemos Juntos," and "Como Antes" — is cataloguing the feeling of listening to a sad Bad Bunny song in the middle of a sad Bad Bunny song. "Canción" is the second time that Balvin seems to be along for the ride here (in the same way you could almost feel Kanye nudging Jay outside his wheelhouse on Watch the Throne). Bad Bunny is a singular presence, but J Balvin's talent is easing into his surroundings. Sometimes, that means the latter is playing follow-the-leader with the former.
When Balvin pounces — see his maniacal poise in the spiteful "Odio," the mischievous welcome at the top of "Mojaita," or the notes in "Que Pretendes" that push him to the limit of his range as a singer — and Bunny delivers, Oasis feels like the work of a well-balanced superhero team. Lyrics are relatable and intoxicatingly dirty. Melodies are effortless and hard to forget. Producers Sky Rompiendo el Bajo, Balvin's go-to beat-maker in Medellín, and Tainy, a vet groomed by the history-making production duo Luny Tunes, deliver a seamless blend of radio-ready trap beats and white-hot, unpredictable reggaeton and dembow confections. (Note that Sky pitches in on writing, and Bunny floats ideas for beats.) Oasis is both daring enough to fit stars of Nigerian Afrobeats and Argentine rock en español into frame and cool and refreshing enough to be dripping out of speakers from here to Labor Day. Urbano contains multitudes.