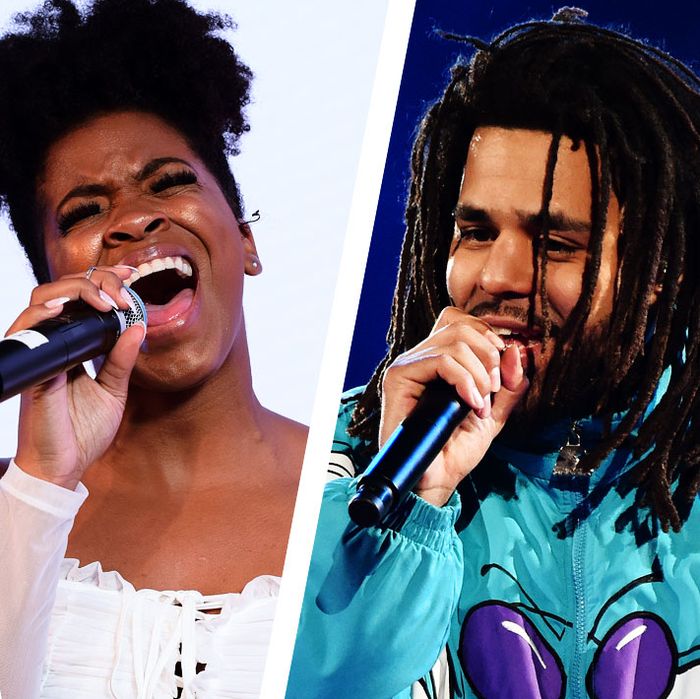 The stars of Dreamville Records: J.I.D, Ari Lennox, and, of course, its boss J. Cole.
Photo: Getty Images
Hip-hop imprint Dreamville Records is — like its co-founder and star player J. Cole, who cooked up the idea for the label as a mixtape rapper on the come-up alongside his friend and manager Ibrahim Hamad over a decade ago — a work in progress, full of raw talent on the path to refinement. As a platinum-selling artist who once camped outside of a New York studio for a chance to play beats for Jay-Z, Cole knows both sides of the struggle. His luck didn't change that day, but by 2009, he would be named as the first signee for the Brooklyn rhymer's fledgling Roc Nation outfit. It's hard work standing out in a field where everyone desperately wants to be seen. Exposure's never guaranteed; there are scores of deserving artists who never get a turn in the spotlight.
Dreamville's new collaborative album Revenge of the Dreamers III dramatizes working musicians' uphill battle for attention in the brutal "LamboTruck," where West Coast rappers Cozz and Reason team up to plot on Cole and Top Dawg Entertainment founder Anthony "Top" Griffith, the underlying suggestion being that sticking up their respective label bosses is easier money than waiting for the chance to release new music. "Copped some things, but I ain't fed," Cozz rhymes in verse one. "Dreams alive, my wallet dead." Dreamers doesn't just illustrate the problem; it's also interested in solutions. The album came together in January as Cole called gifted rappers, singers, and producers to Atlanta for a rap camp of sorts. Over a hundred creatives from inside and outside Dreamville's orbit got golden tickets to the ten-day sessions, and they came out with over a hundred songs. Dreamers, an 18-track sampler of the results, balances their skills with cohesion that escapes many streaming-era hip-hop crew tapes of this nature (see Quality Control: Control the Streets Volume 1, Shady XV, Young Money: Rise of an Empire).
Dreamers III floats thanks to smart planning. Since its inception, Dreamville has centered clever, considerate wordsmiths. The current roster includes Cozz, Queens rapper Bas, Atlanta's J.I.D and EarthGang; D.C. soul singer Ari Lennox; and producers like Cam O'bi, Childish Major, Omen, and Elite, who all excel at a brand of moody trap infused with samples and neo-soul warmth. They write sharply alone, but together, they push each other. Dreamers favors creative concept songs like "Ladies, Ladies, Ladies," a nod to Jay-Z's "Girls, Girls, Girls" where J.I.D reminisces about old flames, then catches a ride to smoke with T.I., who celebrates the women who loved him through his pre-fame, pre-marriage trap days. "1993" is a posse cut where Compton rapper and singer Buddy plays the antsy guy in the weed cipher who interrupts whenever someone gets so distracted they forget to pass the blunt. "Wells Fargo" plots a bank heist; "Sleep Deprived" and "PTSD" trace the trials each artist overcame on the path to fame.
The mission here is to shake up Cole's reputation as the rapper who went platinum on three consecutive studio albums without a guest and also to spotlight vital talent and encourage competition. (Competition was steep enough to kick up sparks on the day of release between two artists who attended the sessions about whose verses made final cut.) It's natural for the captain of the team to want to get outside his own head now, having whittled the rough edges off his sound in the long trek from the promise and overeager hero worship of his mixtapes and early studio albums to the intense reflection of 2016's 4 Your Eyez Only and the veteran's wisdom of last year's KOD. "I don't want to look back 20 years from now and be like, 'I never worked with nobody,'" Cole says at one point in the REVENGE mini-doc filmed during the Dreamers sessions. The boss is also leveraging his own fame to draw attention to his artists on a scale that recalls the hectic promotion of Kanye West's Cruel Summer, another rap-label outing that came with its own short film.
The run of killer features on the way to this project — see Jay Rock's "OSOM," 21 Savage's "A Lot," and 6lack's "Pretty Little Fears," among others — is a bread-crumb trail to the stars in the J. Cole connected universe. Plug into the frenetic fast raps of J.I.D's "Off Deez" or the sedate bossa nova of Bas's "Tribe," and you open up to the wise, well-tailored rhymes of the former's DiCaprio 2 and the latter's Milky Way. "Shea Butter Baby" is a gateway to the treasures of Ari Lennox's solo debut of the same name, a carnal, confident celebration of simple pleasures like getting off work and FaceTiming a lover or luxuriating in a new apartment without any roommates. Dreamers' "Swivel" provides a taste of EarthGang's psychedelic debut Dreamville full length, Mirrorland. (Dig deeper into the comp, and you encounter a wealth of great Atlanta-area artists like St. Beauty, a vocal duo from Janelle Monáe's Wondaland Arts collective; Reese LaFlare, co-founder of the trap group Two-9; and gifted up-and-coming rapper and singer Yung Baby Tate.)
Dreamville's year and a half long push (across EarthGang's Royalty, Cozz's Effected, Lute's Untitled, Milky Way, DiCaprio 2, KOD, Shea Butter Baby, Dreamers III, and the forthcoming Mirrorland) is a smart plan for marshaling the resources of a star in immense demand and a court full of players he believes in. Hip-hop labels can do more than lock great talent into three-year round-robin release cycles, or route good beats and choruses up the pipeline to more famous patrons, or warm benches waiting for a lull in the calendar that is never promised. They can introduce loyal listeners to like-minded performers. They can direct an audience's attention further underground. They can be dojos where technicians unlock their potential. They can develop a style that's distinct but not restrictive. Dreamville is playing the game.