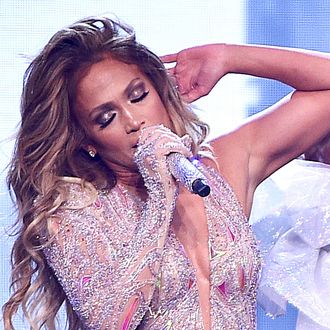 Photo: Theo Wargo/Getty Images for ABA
It seems that the U.S. Women's National Soccer Team is far from done celebrating after last week's World Cup win. After a week of locker-room dancing, rooftop parties, parades, eating lawsuits, and champagne bottle-popping, midfielder Carli Lloyd enjoyed her own very unique celebratory moment: a lap dance from none other than J.Lo.
During Jennifer Lopez's concert at Madison Square Garden on July 12, Lloyd was asked to come up onstage by the singer, who congratulated her on her team's World Cup victory. "I've got a little present for you. Are you ready for this? I don't know if you're ready for this," Lopez told Lloyd. Lopez's backup dancers proceeded to strap Lloyd down to a chair shaped like a giant, tiger-striped heel and began performing a sexy dance to the Jeremih song "Birthday Sex," as you do. A lot of hair whipping was involved.
Here's a closer look at the high-heel chair in case you want to add it to your Amazon wishlist:
Is the women's soccer team having the best time of their lives right now?
Dear U.S. Women's National Soccer Team: Please keep on celebrating for the rest of the year.