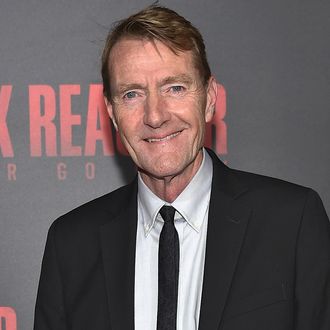 Lee Child is not Jack Reacher, but he did write the books.
Photo: Mike Coppola/Getty Images
There's about to be some Jack versus Jack action in the stable of Amazon shows. The studio announced today that it is going forward with a series adaptation of the Jack Reacher books by Lee Child, making it the company's second Jack-based action program after Tom Clancy's Jack Ryan. Tom Cruise has starred in two movies about the rogue former military man who travels the land serving vigilante justice where he's needed, but the Amazon series will be a totally new endeavor.
According to The Hollywood Reporter, Scorpion creator Nick Santora is leading development for the project, and will serve as showrunner. There will almost certainly be no Tom Cruise, but Christopher McQuarrie, who directed the first Reacher movie, will executive produce the show.
Cruise was considerably smaller than the textual version of Jack Reacher, who is described as quite huge, so perhaps the next Jack will have a longer reach. At the very least he should be big enough to take down John Krasinski (aka Amazon's Jack Ryan), because there can only be one supreme Jack around these parts. The Rock is known to have had his eyes on the character in the past, and it would definitely be the right decision for Santora, McQuarrie, and whoever at Amazon it takes to convince Rock to take another series onto his formidable shoulders.