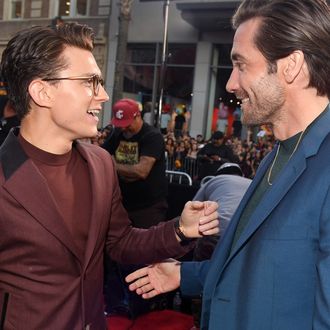 Best friends and lovers Tom Holland and Jake Gyllenhaal.
Photo: Kevin Winter/Getty Images
Wholesome kings Tom Holland and Jake Gyllenhaal have taken their show on the road and across the world for the Spider-Man: Far From Home press tour. With each stop, their "love" for each other grows and their compliments become even more intense. As co-star Zendaya says, "When they're together, you're not gonna get anything in there. It's only them." So who loves the other more? Does Tom's admiration for Jake's work win out over Jake's appreciation for Tom's kind soul? And does the fact that Tom cannot spell "Gyllenhaal" affect his score? Don't call it a bromance — it's a classic press-tour love story. They literally (and probably contractually) can't shut up about each other.
No one:
Jake Gyllenhaal: "He's great, dude. He's awesome. He's the nicest guy in the world. I'm super into him as Spider-Man." (Jimmy Fallon, February 19, 2019)
Not a single person:
Tom Holland: "We met at a restaurant."
Jake Gyllenhaal: "It's like the movie Titanic. That was what it was like when Jack and Rose meet."
Tom Holland: "I was clearly Jack in that situation. You were Rose."
Jake Gyllenhaal: "Obviously." (Cinépolis, June 3, 2019)
No one, again:
Jake Gyllenhaal: "It's a romance. I'm really sick of people calling it a bromance. It's a romance. It's a legitimate romance." (Rotten Tomatoes, June 25, 2019)
Not a soul:
Tom Holland: "Between me and Jake? It's full-on in love. We're getting married." (Access Hollywood, June 27, 2019)
Jake Gyllenhaal: "There is nobody better that I've ever worked with until the next press junket I do, and I'm talking about the other actor that I worked with." (Good Morning Britain, June 27, 2019)
Absolutely no one:
Jake Gyllenhaal: "Working with this guy, Tom Holland … He's the best Spider-Man yet. You never know the challengers, but this guy is truly … there's really no one like him." (Absolute Radio, June 27, 2019)
Jake Gyllenhaal: "He's a lovely soul. He's good." (BBC Radio 1, July 3, 2019)
No one:
No one:
No one:
Jake Gyllenhaal: "Can I tell you something? You're great. I mean, you're greater than the greatest great I know."
Tom Holland: "Yeah, but you're like the greatest actor of our generation. Of your generation." (Entertainment Weekly, July 1, 2019)