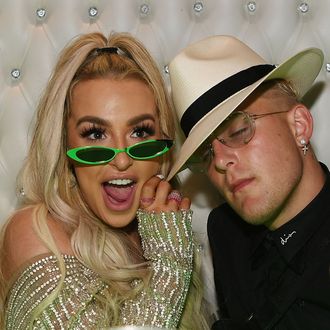 The happy couple at their wedding reception.
Photo: Denise Truscello/Getty Images for Sugar Factory
Just a month after getting engaged at Tana's 21st-birthday party, lawless YouTubers Jake Paul and Tana Mongeau are officially married. They pulled together a ceremony at Graffiti Mansion in Las Vegas, followed by a reception at Sugar Factory (exactly where two kids-at-heart would want to celebrate their marriage). But even though they were all smiles and live tweets, chaos, of course, caught up to the couple. Right after officiant Arman Izadi (a member of Jake's Team10) pronounced them Tana and husband, an unidentified man threw Champagne on the couple, interrupting their first kiss. (Fans and skeptics alike are not convinced that wasn't a planned stunt, but … what part of this isn't?) Arman immediately went to defend them, punching the person in the head, confirmed Tana's manager Jordan Worona to Life&Style. To say that the couple was unfazed is an understatement. They loved it.
No press, just a bunch of cameramen, including, reportedly, MTV, which filmed Tana's 21st birthday. But, to be honest, YouTubers' kits are getting a little outrageous. We wouldn't be surprised if it was just for a channel with 2 million subs. The night ended at the Sugar Factory after Jake destroyed their cake with a sword. They apparently had a more intimate event to get to. Congrats to Jake and Tana! We hope you're happy, whether for a month, a lifetime, or whenever the checks start bouncing.