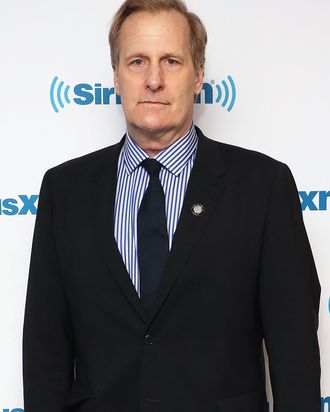 Photo: Taylor Hill/Getty Images
Get ready for Showtime to expand its slate from Jim Carrey's Kidding to an entire Dumb and Dumber extended TV universe. On Wednesday, Showtime announced that it has given a straight-to-series order to the new family drama Rust, starring Jeff Daniels. Rust will follow Daniels as Del Harris, the police chief of a Pennsylvania town who has to decide how far he's willing to go to protect the son of the woman he loves from a murder accusation. Daniels will executive produce alongside Foxcatcher writer Dan Futterman, his recent collaborator on the 2018 Hulu miniseries The Looming Tower. The new series is based on the debut novel American Rust by derivatives trader turned novelist Philipp Meyer, who also produced and adapted his Pulitzer finalist follow-up novel The Son for AMC in 2017.
"With vibrant characters caught in an unpredictable murder mystery, RUST will tell the relevant and touching human story of the corrosion of the American dream," said the network's president of entertainment Gary Levine in a press statement. A touching, human family drama certainly makes sense as Daniels's follow-up to playing Atticus Finch in Aaron Sorkin's To Kill a Mockingbird.