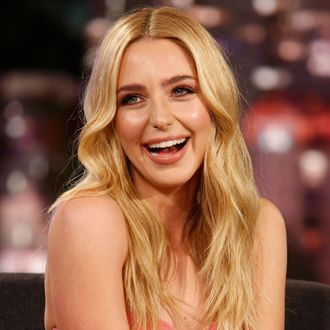 Jessica Rothe.
Photo: Randy Holmes/Walt Disney Television via Getty
Jessica Rothe is very funny in the Happy Death Day movies, so it makes perfect sense that she's been chosen to star in a comedy series. According to Deadline, WarnerMedia's forthcoming streaming platform HBO Max — which will also serve as the new home for every episode of Friends — has given a pilot order to a half-hour comedy titled Delilah, in which Rothe would play the titular character. The show begins "after a life-changing event," when Delilah's "first step toward putting her life back together is to introduce herself to a complete stranger who may or may not be her real father, and his family. The only question is, how much damage can one person do while trying to get their own life back on track? The answer is quite a bit.
The show is based on a pilot Sharon Horgan and Aisling Bea wrote for Channel 4 in the U.K., which ultimately never made it to series. Kirker Butler (Life in Pieces, Family Guy) rewrote the U.S. version of the pilot, and Horgan and Bea are behind the project as executive producers alongside Aaron Kaplan. The pilot joins a growing list of shows in the works at HBO Max, including a new season of Doom Patrol and a Gossip Girl revival announced earlier this month.