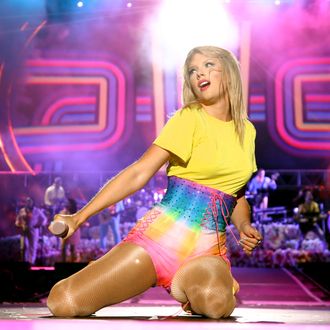 Photo: Rich Fury/Getty Images for iHeartMedia
And on the Lord's day, of all days. In case you hadn't heard, Taylor Swift and Justin Bieber are beefing over Bieber's manager Scooter Braun on social media for all to see. Following news that Braun's Ithaca Holdings bought Scott Borchetta's Big Machine Label Group (Taylor's longtime former label) and, with it, Taylor Swift's entire music catalogue, the Lover singer took to Tumblr to reveal that Taylor Swift? Not a huge fan of Scooter Braun.
In a post published Sunday, the singer calls out Braun, who also manages singers like Ariana Grande, of "incessant manipulative bullying " over the course of "years." Swift accuses Braun of getting Justin Bieber and now-former client Kanye West to bully her online after Kim Kardashian released that "Famous" phone call audio to discredit her, as well as Taylor's inclusion, via a nude mannequin, in Kanye's "revenge porn music video" for the same song. "Now Scooter has stripped me of my life's work, that I wasn't given an opportunity to buy," Swift writes. "Essentially, my musical legacy is about to lie in the hands of someone who tried to dismantle it."
"Any time Scott Borchetta has heard the words 'Scooter Braun' escape my lips, it was when I was either crying or trying not to," wrote the "You Need to Calm Down" singer. "He knew what he was doing; they both did. Controlling a woman who didn't want to be associated with them. In perpetuity. That means forever."
Which begs the question: what does Justin Bieber think about all this? Well, lucky you. He weighed in. In a post published Sunday afternoon, Braun's star client took to Instagram to offer a rebuttal to Swift's post, which included a photo of Braun, Bieber and West and the notation, "This is Scooter Braun, bullying me on social media when I was at my lowest point. He's about to own all the music I ever made."
Bieber apologized for the 2016 photo, which he had captioned, "Taylor swift what up," before chiding Swift for her Tumblr venting. "What were you trying to accomplish by posting that blog? Seems to me like it was to get sympathy. [U] also knew that in posting that your fans would go and bully [S]cooter," he wrote. "I usually don't rebuttal things like this but when you try and deface someone I love's character, that's crossing a line."
Model/close T. Swift friend Cara Delevingne later weighed in via the comments on Bieber's photo. "I wish you spent less time sticking up for men and more time trying to understand women and respecting their valid reactions," she wrote in part. "As a married man, you should be lifting women up instead of tearing them down because you are threatened. I am not sure you actually understand what an apology is."
Update: Wow, who would have thought this would continue to snowball out of control? Adding insult to injury, Big Machine's Scott Borchetta wrote a full essay Sunday claiming he texted Taylor Swift Saturday night about the sale (in addition to conducting the sale itself with Taylor's dad Scott and entertainment lawyer in the loop), taking issue with her complaint that she found out about the deal with the rest of the world.
Scooter Braun's wife Yael Cohen Braun also entered the fray, echoing Borchetta's allegation that Swift's father knew about the deal beforehand and that Borchetta had contacted Taylor when the deal was in the offing. "Scott (Scooter) was so excited to work and build with you," she wrote on Instagram. "How embarrassing this temper tantrum is because you didn't get your own way.
A rep for Taylor has, however, denied that her father had any involvement with or prior knowledge of the deal between Big Machine and Braun. The statement to People reads:
"Scott Swift is not on the board of directors and has never been. On June 25, there was a shareholder phone call that Scott Swift did not participate in due to a very strict NDA that bound all shareholders and prohibited any discussion at all without risk of severe penalty. Her dad did not join that call because he did not want to be required to withhold any information from his own daughter. Taylor found out from the news articles when she woke up before seeing any text from Scott Borchetta and he did not call her in advance."
Erik Logan, a Big Machine board member, later tweeted an open letter to Swift accusing her of being the real bully in all this: "I'm not going to sit on the sidelines and allow you to re-write history and bend the truth to justify your lack of understanding of a business deal … As I watch you attempt to re-write history and parse words, all from your massive platform, I'm reminded that's what a real bully would do. You're the real bully. Your power is fading, your shine is dull and this is what bully's do, they lash out - especially when they are called to stand in their truth."
Demi Lovato, one of Braun's newest clients, also took to Instagram stories to defend her manager. "I have dealt with bad people in this industry and Scooter is not one of them," she wrote. "He's a good man. Personally, I'm grateful he came into my life when he did."
Halsey, however, is firmly Team Taylor, specifically Team Taylor Owning The Masters To Her Own Catalogue. "She deserves to own the painstaking labor of her heart," the singer wrote on Twitter. "And it turns my guts that no matter how much power or success a woman has in this life, you are still susceptible to someone coming along and making you feel powerless out of spite." And then there's Todrick Hall, Taylor's "You Need to Calm Down co-star, who loathes Scooter Braun so much, he wrote a song about him. (So that's why Joseph Gordon-Levitt was riding a scooter.)
Taylor has yet to directly respond to Bieber or any of the accusations made by the Braun-Borchetta camp, but can be found still over on Tumblr letting her fans do the talking. The singer has been spotted sub-liking posts critical of Bieber, including one defending her for not "communicating their differences" privately because he cheated on her BFF Selena Gomez and, therefore, has long been dead to her. Biebs had previously alluded to straying in his relationship with Gomez; Taylor's like seemingly confirms it. Or she's just (still) feeling spicy.