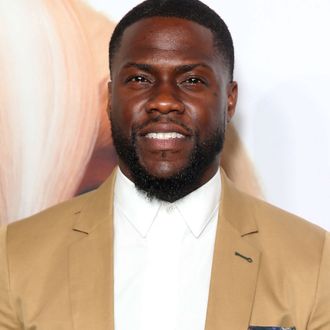 Kevin Hart.
Photo: Don Arnold/WireImage
You're probably familiar with Kevin Hart the comedian, but soon you'll get to know Kevin Hart the aspiring action-movie star, as seen on a new short-form streaming show. Jeffrey Katzenberg's forthcoming streaming platform Quibi (which has a huge pile of short-form series in the works, including one from SNL alums Paula Pell and John Lutz) announced today that it has partnered with Kevin Hart's production company Laugh Out Loud for a show starring Hart titled Action Scene.
In the short-form series, Hart will star as "a fictionalized version of himself on a quest to land the action movie role of a lifetime. After being rejected for the role, Kevin randomly encounters a leading A-List action movie star which inadvertently sets off a chain of events, causing Kevin to fight his way through a series of hilarious, over-the-top action sequences with the help of some of Hollywood's biggest action movie heroes." The mysterious "A-List action movie star" and other cameos have not been revealed just yet. The series is inspired by the opening sequence of Hart's 2016 comedy special Kevin Hart: What Now?, and Dave Becky is credited as an executive producer alongside Hart and Jeff Clanagan.
In addition to the Quibi series, Hart has lined up a list of other projects recently. This year alone he signed on to star in a Monopoly movie directed by Tim Story, develop and star in a remake of the hit Korean comedy film Extreme Job, and lead a (rumored) remake of the 1988 dark comedy Scrooged. He also dropped his most recent Netflix stand-up special, Irresponsible, back in April.