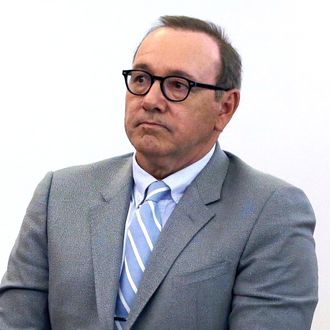 Photo: Steven Senne/AP/Shutterstock
Prosecutors in Nantucket dropped a sexual-assault case against Kevin Spacey on Wednesday. Spacey was accused of groping a then-18-year-old man in July 2016. Per ABC News, the dropped charges come after Spacey's accuser, his parents, and prosecutors met on Sunday, July 14; during a July 8 hearing, the accuser exercised his Fifth Amendment right against self-incrimination over questions about a cell phone central to the case. During the investigation, the accuser told investigators that he sent his girlfriend Snapchat videos of Spacey groping him, according to the criminal complaint, but the accuser's mother potentially deleted "exculpatory data" from the phone. When he was being questioned by Spacey's attorney in a hearing on July 8, the accuser invoked his Fifth Amendment right in response to questions about the cell phone's data.
"The complaining witness was informed that if he chose to continue to invoke his Fifth Amendment right, the case would not be able to go forward," Michael O'Keefe, Cape and Islands district attorney, said in a statement released on Wednesday. "After a further period of reflection privately with his lawyer, the complaining witness elected not to waive his right under the Fifth Amendment." Earlier this month, Spacey's accuser dropped a civil case against the actor. The accuser's attorney, Mitchell Garabedian, issued a brief statement on Wednesday, saying, "My client and his family have shown an enormous amount of courage under difficult circumstances. I have no further comment at this time."
After Star Trek actor Anthony Rapp accused Spacey of trying to seduce him when Rapp was just 14, the actor was the subject of dozens of allegations of sexual harassment and assault. On Christmas Eve 2018, Spacey filmed, edited, and posted a video titled "Let Me Be Frank," where he vaguely addressed allegations against him in character as Frank Underwood from House of Cards.