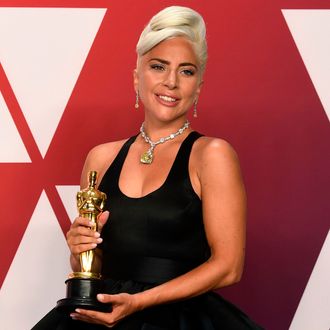 Lady Gaga.
Photo: Frazer Harrison/Getty Images
There can be 100 people in a room and 99 of them believe that Green Book deserved its Oscars, but all it takes is one Oscar voter Lady Gaga to save the Academy. The Academy announced its new members on Monday in a press release, noting that the new class is 50 percent women and 29 percent people of color. Among the additions: Lady Gaga, Tracy Letts, Adele, Spider-Man: Into the Spider-Verse's Lord and Miller, Desiree Akhavan, Crazy Rich Asian's Gemma Chan and Jonathan M. Chu, plus Black Panther's Sterling K. Brown, Letitia Wright, and Winston Duke.
Congratulations to all of us, just in case the Academy decides to keep its clown makeup on this awards season: Lady Gaga already saved the Oscars last season (twice, if you count the "Shallow" performance some of us — hello! — are still recovering from). In February, When the Academy floated the idea that only two of the five Best Original Song nominees would get the chance to perform at the ceremony, Gaga declared the idea a no go. "The reason the Academy walked back that decision was because either Lady Gaga herself, or her reps, made it clear she felt it was completely unfair to eliminate the three songs — almost like the Academy producers were forecasting who they thought would win — and that she wouldn't perform if a change wasn't made," Deadline reported at the time. Help us, Lady Gaga! You're our only hope.