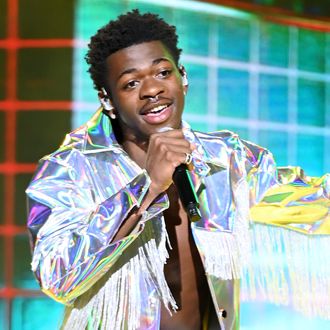 Literally nobody can tell him nothing now.
Photo: Noam Galai/Getty Images for BuzzFeed
Lil Nas X, through memes, lyricism, and a lot of stealth promo, has broken the record for longest consecutive No. 1 on the Billboard Hot 100 chart. "Old Town Road (Remix)," featuring Billy Ray Cyrus, has now gone where literally no other song in history has gone before. With 17 weeks, he surpasses Mariah Carey and Boyz II Men's "One Sweet Day" and the unforgettable 2017 song of the summer "Despacito" by Luis Fonsi and Daddy Yankee, featuring Justin Bieber. It's a storybook ending for this Western fable, already being passed up orally from Gen Z to millennials and so on. After the track was unjustly denied a place on the country charts, Billy Ray Cyrus hopped on, talking about "Fendi sports bras," and the world went wild. Since then, Lil Nas X has performed at Stagecoach, been nominated for awards, gotten a sponsorship with Wrangler, released an EP, dropped three more remixes, come out, and even gotten hit with a lawsuit. He's officially made it. Literally nobody can tell him nothing now.