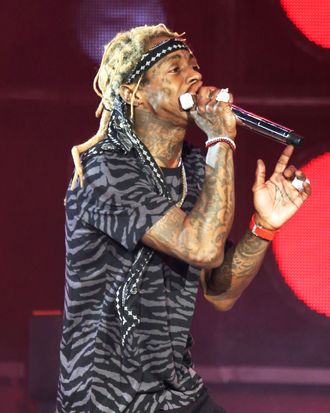 Photo: Manny Carabel/Getty Images
Things that are Lil Wayne's swag: nicknames, skateboards.
Things that are not his swag: the crowds at his joint tour with Blink-182.
Lil Wayne stopped his set on Thursday night mid-song to let fans know that he was not feeling it and hinted that he might be leaving the tour early. But through a tweet, the rapper confirmed that he will be staying on through the rest of the tour.
"Yesterday was krazy!" he wrote. "But I want all my fans to know I won't be quitting this tour! I'm having too much fun with my bros blink-182. Bangor,ME See you tomorrow!"
During his first song at Jiffy Lube Live in Bristow, Virginia, Lil Wayne stopped the music to address the crowd.
"Please forgive me but I am so not used to performing to a crowd … and there's not too many … that's not my swag," he admitted. "I'm not sure how long I'm going to be able to do this tour, but make some noise for Blink-182 for including me anyway. This might be my last night, though. Let's go!"
According to fans, he ended his set early, after about 20 minutes. The tour is set to run until mid-September and is only on its tenth stop. So, let's hope after reviewing his contract, Wayne will fulfill his entire set and keep fans from blowing up Twitter with rants.