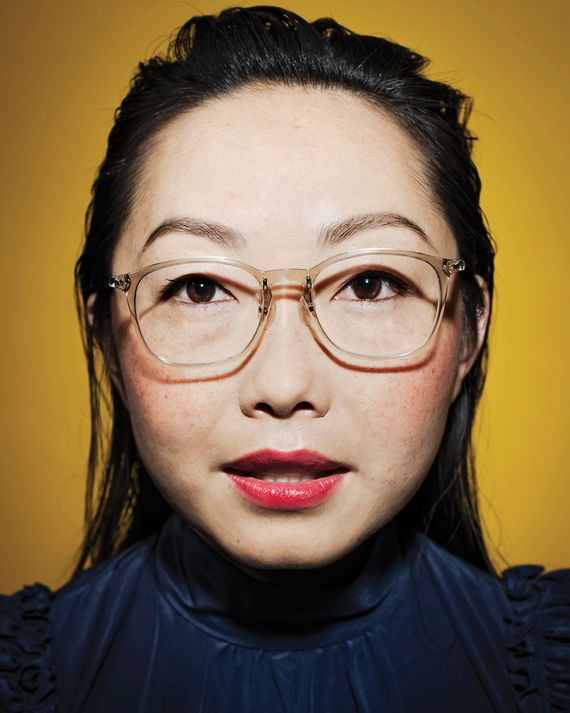 Lulu Wang and I are heading toward Coney Island on the F train one morning in early June, playing Two Truths and a Lie. I go first. I tell her I'm allergic to penicillin, I'm a gold-star gay (meaning I've never slept with a woman), and I'm the oldest of three kids. She's pensive for a second, with sunlight dappled across her face, then shoots from the gut: The last one is the lie because the other two were too specific. (Indeed, I'm an only child and a bad liar.) "Truth is stranger than fiction, so the more mundane thing is easy to lie about," she says. "I'm very good at spotting when people are inauthentic. I can always feel when someone's not fully connected. It's just an energy thing."
Her second feature, The Farewell is populated with the lies we tell the people we love. The opening scene is a phone conversation between Billi (Awkwafina) and her grandmother (Zhao Shuzhen), in which they reassure each other with comforting untruths, and the movie begins with the declaration "Based on an actual lie," which is true: The film comes from Wang's own life. About five years ago, her paternal grandmother, whom she calls Nai Nai, was diagnosed with stage-four lung cancer and given a prognosis of three months to live. Her family, including her grandmother's younger sister, Little Nai Nai, decided not to tell her. Instead, they would bear the burden of her impending death; they would surround her with joy and gather in her grandmother's hometown of Changchun in northeastern China for Wang's cousin's last-minute wedding as a way to say good-bye.
Wang filmed The Farewell in 24 days in Changchun last summer, and many of its scenes parallel reality. The wedding-banquet hall is the same one where her cousin got married, and Little Nai Nai plays herself in the film (as does her dog, Ellen). More than that, there's a feeling of truth in the odd, sometimes comedic juxtapositions we see after Billi arrives in China: the married-couple-to-be struggling with their photo shoot in the background of conversations, the drunken men with armfuls of women getting their "usual" room at the hotel where Billi stays.
The world of The Farewell straddles geographical, cultural, and linguistic divides. There's a chorus of accents — from Billi's awkward Chinese-via-Queens speech to her mother's (Diana Lin) inversely accented English and her father's (Tzi Ma) relatively assimilated English — each one telegraphing a different immigrant experience. "I really set out to be as specific as possible to my own experience of where my parents fall on that spectrum of identity with Chinese versus American culture," Wang says.
The inevitable fish-out-of-water and East-meets-West narratives happen, but in subtle, sometimes painful ways. Part of Billi's — and Wang's — journey is wrestling with the cultural logic of whether or not to "lie." "When this whole thing started, I felt like the only rational person in my family: the lone Westerner defending my grandmother against old-fashioned beliefs," Wang said on a 2016 episode of This American Life called "In Defense of Ignorance," in which she first told this story.
Perhaps unsurprisingly, she is a skilled fabricator. When it's her turn to play Two Truths and a Lie with me, Wang says she hates sweetbreads, that her first love was a man 27 years her senior, and that she and a friend once pranked another friend by kidnapping him and taking him to New York. I guess all but the correct one, the mundane lie hidden among the big, bold statements.
"There's nothing I don't like to eat!" she says triumphantly. "I literally love everything, especially sweetbreads."
"Holy shit!" Wang screams with delight as we whiz through the air, the candy-colored psychedelia of the Coney Island amusement-park rides underneath our feet and the hard glitter of the ocean just beyond. She says it has always been a dream of hers to do an interview on a Ferris wheel, so here we are, 150 feet in the air, on a swinging car instead of a more sedate, stationary one. Wang is the sort of person who follows her instincts. She once met a man in a bar in Boston who owned some land in Panama, which led her to make a documentary short about overfishing called Fishing the Gulf. When she lived in New York for six months, she would sometimes randomly decide not to get off the train. "I used to do this kind of thing all the time, just like go off and wander and get lost," she says. "I really believe the universe rewards the courageous."
In 2007, she moved to Los Angeles. When she arrived, she thought the best way to break into the film industry would be to work on a set. So she got a job as an assistant to a producer — one of those stand-and-wait jobs. Only Wang does not like to stand and wait. On the set of Pineapple Express, the director, David Gordon Green, told her he would be interested in seeing her work, so she walked up to the video village and gave him a DVD of a short film she had made. "My boss, the producer, saw that, and she was just like, 'You can't do that. You can't just walk up to video village.' There's a hierarchy in the studio system that I just wasn't aware of," Wang says. She was unceremoniously fired. "I was not a good assistant, regardless," she adds with a smirk.
Green did give her a piece of advice afterward over coffee: She wasn't going to learn how to be a filmmaker by working as a production assistant anyway. He told her how he would work to make money and spend the rest of his time on his creative efforts. So Wang did something similar, starting a company called LegalREEL Productions in 2008, which shot videos for plaintiffs' attorneys and gave herself the time and money to write. She made her first feature film, the screwball romantic comedy Posthumous, in 2014, bankrolled by a Swiss producer, Bernadette Bürgi, who she bonded with over a serendipitous trip to Ikea. "The funny thing about Hollywood as a town that makes stories is there aren't actually that many original storytellers. Lulu can do that," says actor and screenwriter Brit Marling, who stars in the film. "She's like a firecracker. She has an internal source of light and energy. It's not a phony optimism. It's a hard-won optimism. The world can really beat that out of you as a woman. But she has a relish for life."
Wang had tried pitching the concept for The Farewell before the This American Life episode, to no avail. Producers and potential investors tried to make the film broader and more readily recognizable to either an American audience or a Chinese one. "My agent at that time, who I'm no longer with, would say, 'Is this a Chinese film or an American film?'" Wang says. "I had a Chinese investor literally say, 'My Big Fat Chinese Wedding.' [They] were like, 'Obviously, Billi should be the bride, because that's the only way to make it have more stakes.' I entertained it for a second, because at least then I can make the film, but then I just thought, No, I can't. I can't live with myself if I do it. If you give her a love interest, the movie becomes about that and it takes away from her relationship with her grandma. Why is that not enough? Mountains are falling because you're losing your grandmother that you love."
So she waited. Wang would either make the film she wanted to make or not make it at all. "It's a real privilege to be able to say no," she says. "There's so little representation of people who look like me behind the camera that it makes you want to say yes to any opportunity out of desperation. It puts you in a situation where you can't make your best work. Diversity for cheap. Everybody wants to do diversity now, but who pays that cost?"
After her episode of This American Life, there was a round of renewed interest in adapting the story the way Wang had envisioned it. (Big Beach Films ultimately produced the film.) Perhaps what's most radical about The Farewell is how Wang trusts that the viewer will be able to listen, watch, and take in its world. "I try not to explain things in the movie to a Western audience. I just presented a scene the same way any other filmmaker would present a scene about their family," she says. "I set out to make a film that was not self-consciously Asian-American in the sense that I wanted very much to be in the experience rather than outside of it. I didn't want to have any kind of self-awareness about identity. It was really just about the purity of the experience and the emotions I was feeling throughout it."
In January, The Farewell premiered to rapturous reviews at the Sundance Film Festival, provoking a bidding war. A24 won with an offer of around $6 million to $7 million — about double the cost of making the film. But the indie production outfit wasn't the biggest player at the table: a "streaming company" counter-offered with more than double their amount, sending Wang into a minor existential crisis. "I was pretty upset because we were all so happy with the [A24] deal before this other offer came in," she says. "That's kind of how capitalism works — it ruins things because it shifts your perspective entirely."
Wang called her mom to ask for advice. "I can buy you a house now. And you can tell all your friends," she remembers telling her. "Why would you buy me a freaking house? I already have a house," her mom replied. "The film is your baby and you have to give it to the place that is not necessarily the wealthiest, but will give it the most love and joy and bring it into the world in the right way."
Ultimately, Wang knew "it wasn't about a number," but the care and slowness of the rollout, so she and the rest of producers decided to stick with A24. "She has that tenacity, that willingness to say no and to fight for things that she believes are right," says Awkwafina, née Nora Lum. "I think that is surprising because you don't really think that about people like us, you know? She's a boss bitch." 
Wang was born in Beijing and lived for about a year in Changchun with her grandmother before moving to Miami with her parents when she was 6 years old. Her mom was 36 when they moved to the U.S., the same age she is now, which is the third turn of the zodiacal cycle — a year of momentous shifts and change. Before her mother met her father, who was a Chinese diplomat to the USSR, she was a cultural critic and editor at the Beijing Literary Gazette, a now-defunct magazine that was "like The New Yorker," Wang says. Her mother was unhappy at the time, so she prayed, even though she wasn't religious, declaring that she would give up her career for love and family. Soon after, she met Wang's father and, eventually, stopped writing.
If children are extensions of their parents' lives, then immigrant children often contain the promise of a dream deferred. "We've chosen very different paths, and she says that I have a lot more courage and a lot less fear. She'd always been a very fearful child, and ever since I was little I've always been fearless," Wang says. "Growing up, she would always say, 'As a man you can have it all, but as a woman you have to choose.' I didn't want to believe in her reality."
Wang isn't religious either, but she is spiritual in the way that she believes the universe can converge in strange, magical ways if you're paying attention. When she was little, her mother used to tell her a story about what kind of person she would be. While she was pregnant with her, she had gone to see a blind psychic in a remote Chinese village. "He said, 'You'll have four children, and your first will be a daughter,' " Wang recalls. "And he said, 'You are water, but you're like a river. You have a lot of talent and you have a lot of gifts, but you can't hold on to any of it. It flows. But your first child is your daughter. She's also water, but she is the great ocean, and all of your gifts will flow into her.'
"My mother always told me that as I was growing up, so it gave me this certain expectation: On top of being an immigrant, what if I can't be an ocean? That's too much! But my mother is very matter-of-fact. She's like, 'This is what was said, and so this is your fate. This is your destiny.' I said, 'But what does he know? You never had four children.' And she's like, 'Yes I did, because I had you and I have Anthony, and there were two in the middle while I was in China that I wasn't allowed to keep.' She was pregnant four times, and she had forced abortions because of the one-child policy."
We're in the back of a car driving along the water in Bay Ridge, Brooklyn, and the light scatters on the East River where it empties into the neck of the bay. "Who knows what we believe?" she says. "Is it a self-fulfilling prophecy, or is it a prophecy? We don't know."
*A version of this article appears in the June 24, 2019, issue of New York Magazine. Subscribe Now!