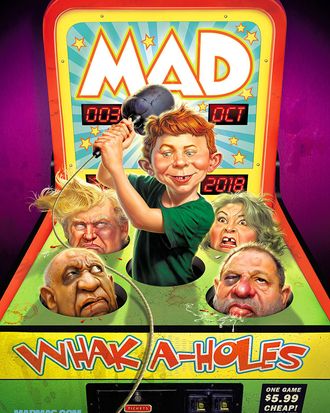 Photo: Courtesy of Mad Magazine
Venerable joke rag MAD Magazine will be ceasing publication of original content. Blogger Jedidiah Leland reported that a longtime editor broke the news in a private Facebook group, and MAD writer David DeGrand confirmed the story on his personal Twitter. Rather than create new comedy, MAD will recycle old content until their subscription obligation is fulfilled, then potentially shut down altogether. An email from DC Comics sent to freelancers and obtained by Vulture says that Issue 10 will be the last of MAD with original content. While not stating whether the publication would cease entirely, the email confirms that MAD will no longer commission new content for either the print or online versions of MAD, for however long they continue to exist. In the wake of the news, many contributors have been posting farewell tweets to the mag.
So far, DC Comics has made no official statement, but there have been signs of trouble for the eagle-eyed. Editor Allie Goertz was laid off recently and another editor, Dan Telfer, announced his departure on Twitter earlier this week. A source tells Vulture these layoffs are only the tip of the iceberg: The vast majority of the magazine's staff was quietly let go last week. "They're basically euthanizing the magazine," the source says. "They'll do one more issue with original content and then produce some magazines – I don't know how many – with repurposed older material. They're keeping on two designers, an editorial assistant, and a temp." The source went on: "Very few people even know this in-house even though it happened a full week ago but the feeling among those who do is that MAD is dead."
However, it appears that not everyone is clear about what's going on. One freelancer, presented with the news of the end of original content, told Vulture they'd already produced months' worth of upcoming new content for MAD and had heard that the magazine's sales and subscriptions were, if anything, on the rise. MAD may be in the middle of DC Comics' massive restructuring initiative, which has also seen the shuttering of the Vertigo imprint and the departure of several major editors.
Vulture's initial source said DC had "no plan to issue a press release or even a tweet" about the move to cease original content at MAD. We have reached out to DC and will report back if they have a comment.