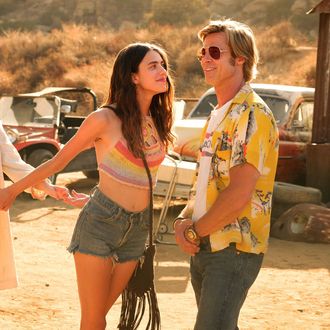 Photo: Andrew Cooper/Columbia Pictures
In Margaret Qualley's big Once Upon a Time in Hollywood scene, she stretches out in the front seat of Brad Pitt's car and flirts with him, asking him if he wants a blow job while driving her to the Manson compound at Spahn Movie Ranch. Instead of freaking out about flirting with Pitt, Qualley was nervous to let Quentin Tarantino's camera linger on her toes. "I genuinely was like, 'Quentin, this is a bad idea. I don't have good feet,'" Qualley told IndieWire. "I was in pointe shoes for far too long to have toes that can be shown to the world." Qualley explained:
"We had a big debate about it, me, Quentin, and Brad, with them trying to be like, 'You're fine,' and me being like, 'No, guys, really, look, these are not good,'" Qualley recalled. "'I know that I undermine myself pretty regularly, but I'm genuinely telling you these are not good feet, look at these. I know I'm self-deprecating, but I'm not being in this particular instance.'"




Eventually, Qualley caved and "did the foot thing," she said, with no regrets. "I used to actually be pretty mortified with my feet," she said. "Maybe I can finally just give up that now."
Nothing like a Tarantino movie to cure you of any insecurities about your toes. Stars — they're just like us!