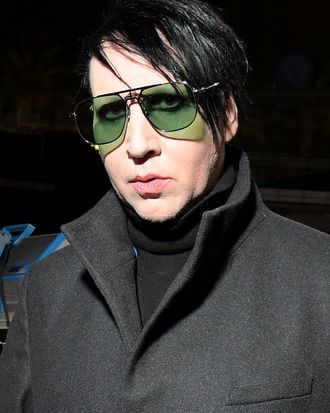 Photo: Charley Gallay/Getty Images for iHeartMedia
Marilyn Manson hasn't been out there raising hell, terrifying youth ministers and (allegedly!) having his ribs removed, just for the fun of it. Okay, maybe that last part was for fun, but the rest of it speaks to a lifelong commitment to the Dark Side, which is why we're rooting for him to play Randall Flagg, the many-named demonic villain of Stephen King's The Stand.
According to a recent interview with Revolver, the rocker will not only be in the cast of director Josh Boone's upcoming The Stand miniseries, reportedly alongside James Marsden and Whoopi Goldberg, he will also be on the soundtrack. "Shooter [Jennings] and I also did a cover of 'The End' by the Doors, for a new miniseries of The Stand by Stephen King," he explained. "Which I'm also going to be acting in." Between The Stand and his turn in The New Pope, it must be hard for Manson to make it all the way down to Georgia looking for a soul to steal from an unsuspecting fiddle boy, but he makes it look so easy.