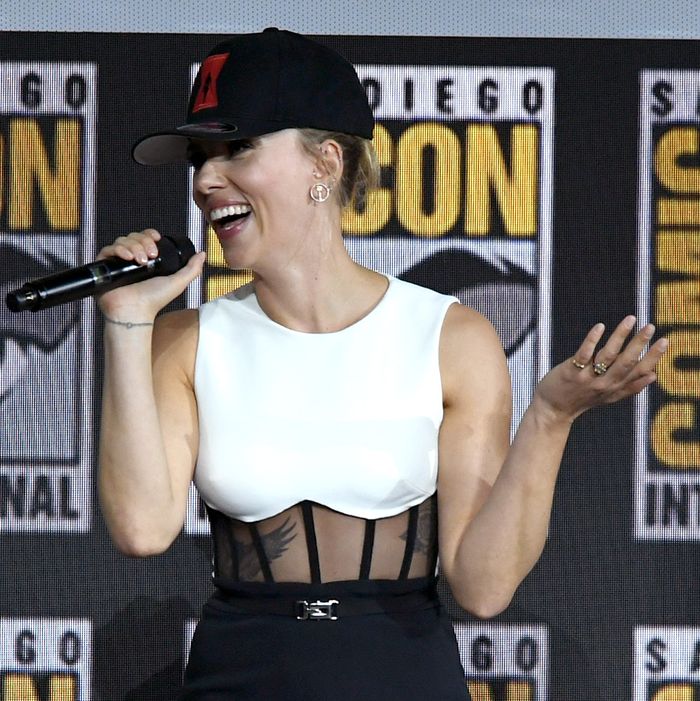 Marvel honcho Kevin Feige (left) with Scarlett Johansson and
Black Widow
co-star David Harbour
Photo: Kevin Winter/Getty Images
It says a lot about the overwhelming display of cinematic firepower Marvel brought to San Diego Comic-Con's Saturday evening that the studio did not use its Hall H panel to hype impending sequels to past blockbusters. Among those on the horizon: Black Panther 2, Guardians of the Galaxy 3, and Captain Marvel 2. Or, for that matter, the just-discovered MCU reboot of Fantastic Four, which received but a fleeting, casual mention from the stage by Marvel president Kevin Feige in the same breath as a project he called Mutants. The Comic-Con faithful naturally intuited this to mean the studio's "We got the IP back" return to the Uncanny X-Men.
Instead, Feige gave a curated tour through the Marvel Cinematic Universe's so-called Phase Four, the studio's follow-up to its Infinity Saga that kicked off with 2008's Iron Man and concluded with the release of this month's Spider-Man: Far From Home. Wearing his signature baseball cap — a symbolic talisman that we will touch on later — the studio honcho walked attendees through ten upcoming movie and TV projects certain to broaden the depth of the MCU's storytelling by crossing over from the movie screen to Disney's upcoming streaming service, Disney+. And he iced the whole thing with a shocking casting coup.
The Eternals
First off: director Chloe Zhao's The Eternals, which arrives in theaters November 2020 and centers on a group of immortal aliens who have lived on the earth for 35,000 years, protecting humanity from evildoers known as the Deviants. Zhao turned up alongside the movie's diverse cast: Salma Hayek, Richard Madden, Kumail Nanjiani, Lauren Ridloff (the first deaf Marvel hero), Bryan Tyree Henry, Lia McHugh (the youngest-ever Marvel hero), Don Lee, and Angelina Jolie.
Hayek took her moment onstage to praise the director (best known for her Independent Spirit Award–winning film, The Rider) while acknowledging The Eternals' broad array of representation and inclusiveness. "Chloe is a strong woman," the Mexican actress said. "It takes a strong woman to do a movie like this. It's so big. The way she approaches leadership as a woman, she sees them like a family. There's a lot of mother instincts in this Eternals, a movie that is going to be for all the people who never felt represented in superheroes movies. I'm proud to have a diverse family."
The Falcon and the Winter Soldier
Next up, Feige announced the existence of a project called The Falcon and the Winter Soldier, which reteams Anthony Mackie's character Sam Wilson/the Falcon with Sebastian Stan's Bucky Barnes/the Winter Soldier for a series that will debut on Disney+ in Fall 2020. The Marvel prez welcomed both actors to the stage, but their chummy, bro-y banter was interrupted by a sinister video in which Daniel Brühl, as his bad guy character Baron Zemo (from Captain America: The Winter Soldier), ominously intoned, "I'll be seeing you very soon."
"We beat you once; we can beat you twice," Mackie said.
Shang-Chi and the Legend of the Ten Rings
Another project Marvel had been keeping under wraps, Shang-Chi and the Legend of the Ten Rings, was announced for February 12, 2021. You could sense palpable fanboy awe as Feige revealed that Easter eggs for the Ten Rings — a terrorist organization dedicated to destroying the world by any means necessary — had been teased in the original Iron Man, in Ant Man, and in another Marvel short, showing the group's distinctive interlocking series of circle tattoos peaking from stills in each project on the hall's big screen. But Shang-Chi's larger social import will be its arrival as Marvel's first film to be plotted around an Asian character — another milestone after Captain Marvel and Black Panther shattered the ceiling on standalone female and African-descended heroes.
But the even bigger reveal was Shang-Chi's newly installed star, Simu Liu, a little-known actor whose most notable credit was appearing on Kim's Convenience, a Canadian sitcom about a Korean-Canadian family that debuted in 2016. "I have a bone to pick with Kevin," Siu said onstage. "I was like a social experiment. Ordinary guy living in Toronto. I got four days to prep. I auditioned on Tuesday, screen-tested on Sunday in New York. And I'm here today. I can't describe how I feel about this."
He went on to further elucidate his Cinderella casting: "It's the fulfillment of my dream. My parents immigrated form China to Canada with the hopes and dreams of a better life for their kids. What I'm trying to say is, I'm really happy I'm not a doctor! Take that, Mom and Dad!" Oh, and Awkwafina also has a role in the movie.
WandaVision
Arriving to Disney+ in Spring 2021 is a project roundly described as "weird" by its principles: WandaVision. It's a show plotted around the love connection between two Avengers stalwarts, Vision (Paul Bettany) and Scarlett Witch/Wanda Maximoff (Elizabeth Olsen), which Feige described as a "mega-event series" that's "unlike anything we've done before."
Both actors were on hand, with Olsen taking more initiative in characterizing what WandaVision will be about. "We're going to explore Wanda's character in depth," she said. "We're gonna have a lot of funny but it's gonna be weird. Lots of surprises."
"I can't tell you how exciting and strange and different that show is going to be," Feige added.
Loki
Another Disney+ series, Loki — starring Tom Hiddleston as Thor's troublemaking brother, who apparently beamed himself into a different dimension by grabbing the Tesseract during a key moment in Avengers: Endgame — will debut on the streaming service in spring 2021.
Hiddleston, on hand for the unveiling, could barely contain his enthusiasm but still managed to studiously avoid spoilers. "Hey, you guys saw Avengers, right? He's still that guy," the British actor said. "Just about the last thing that happened to him is, he got Hulk-smashed. There's a lot of psychological evolution that is yet to happen. It is one of the most exciting creative opportunities I've ever come across. This is new territory, a new world, new challenges. I cannot wait to get started."
Doctor Strange in the Multiverse of Madness
Scott Derrickson, director of Doctor Strange in the Multiverse of Madness, the sequel to 2016's Doctor Strange, turned up at the event with the movie's star, Benedict Cumberbatch (and co-star Olsen), to reveal how the film will stand apart from other entries in the studio oeuvre. "We're going to make the first scary movie in the MCU," Derrickson said, going on to detail its tone of gothic horror.
"When you have a strong sorcerer, it's nice to have a strong witch," Feige noted. "The Scarlet Witch is appearing in this movie. The events that you will see Wanda go through in WandaVision will be tied directly into Multiverse of Madness."
"I'm excited to link one story on one medium and bring it into the future where we haven't done that yet. It might be the future," she said.
What If…?
Without revealing much content-wise, Feige teased What If…?, Marvel's first animated series, which is set to supply different versions of "all of those set-in-stone MCU scenes and experiences" using the vocal talent of many of the actors from the original films.
Hawkeye
And from there, the MCU mastermind and quality-control overseer turned to the reveal of the third and last announced Disney+ series, Hawkeye (dated for fall of 2021), for which original Avenger Jeremy Renner (who has appeared as the character of Cliff Barton/Hawkeye in five Marvel films) received what can only be described as a hero's welcome in Hall H — a standing ovation and the snapping of a zillion iPhone photos en route from his seat in the crowd to the stage. An animated graphic projected onto the big screen featuring a female silhouette with Hawkeye's signature bow and arrow and hoodie. And Feige confirmed the show's plot line will focus around Cliff's relationship with Kate Bishop: the female Hawkeye in training.
"What I get to do in the show is shepherd an amazing character, a better version of me," Renner said. "The sentiment of that is the fiber of what Hawkeye is: a superhero without superpowers. I get to teach someone else how to be a superhero without superpowers. In that sense, everyone is a superhero!"
Thor: Love and Thunder
Although Chris Hemsworth's contractual obligation to Marvel expired with Avengers: Endgame earlier this year (and in January, he famously told USA Today, "I'm done. I won't be playing that character again") the Australian hunk dutifully showed up with Thor: Ragnarok director Taika Waititi and co-star Tessa Thompson to divulge their impending reteaming in Thor: Love and Thunder.
Waititi, whose Ragnarok received some of the best reviews of any MCU entry for its striking balance of fish-out-of-water comedy and CGI combat, divulged a key plot line and crucial piece of casting that viscerally startled Hall H. "I was reading a story line in a Jason Aaron comic called The Mighty Thor," Waititi said. "If you know that story line, it's full of emotion. It introduces for the first time Female Thor. For us, there's only one person who could play that role. Only one. and she's here." Enter Natalie Portman, wielding Thor's signature hammer, Mjolnir.
Black Widow
But the panel's surprises were far from over. After the waves of A-list talent arrived on stage to heap praise on the MCU, and after the shock of projects no one knew Marvel had in store settled, Feige pivoted to Marvel's next blockbuster, the Scarlett Johansson solo shot Black Widow, premiering in May 2020. Despite currently filming in London, director Cate Shortland, along with key cast Johansson, David Harbour, Florence Pugh, Rachel Weisz, and O.T. Fagbenle braved the 11-hour flight to debut new footage from the film, which is only 30 days into production.
In the most striking sequence, Black Widow/Natasha Romanoff arrives in Budapest, Hungary, making her way into an apartment in an ancient apartment building with her Glock drawn. She encounters Pugh's character, Yelena, inside and they lock themselves in a standoff: pistol to pistol and barrel to barrel, only inches apart. Soon mutually disarmed via bone-jarring mixed martial arts, they move on to knives, then a knock-down-drag-out fist fight ensues with both women ending up destroying the apartment and nearly strangling each other. Cut to shots of vodka being poured; Yelena and Natasha, it turns out, are sisters. "Are we going to talk like grownups now?" Yelena asks.
Bonus: Blade
When the lights came back up in the hall, the Black Widow cast members, as well as Feige, were wearing Widow-branded baseball caps. "Did you happen to bring 7,000 extras for everyone here?" the Marvel president asked. "Of course we did!" Johansson replied, and hats were passed out for what will inevitably become a Disney-branded, Comic-Con-sanctified promotional selfie. With most attendees assuming the presentation was finished, Feige teed up the discussion's coup de grace. "I want to leave you one more thing: Mahershala Ali," he said.
The True Detective star and two-time Oscar winner loped across the stage, unspeaking, grinning widely. "It looks like you brought your own hat," Feige said. And with that, Ali pulled out of his pocket and placed on his head a baseball cap bearing the logo for the vampire-superhero franchise originally starring Wesley Snipes. The clear message was that Ali will, at some unspecified point in the future, claim the lead role in it: Blade.