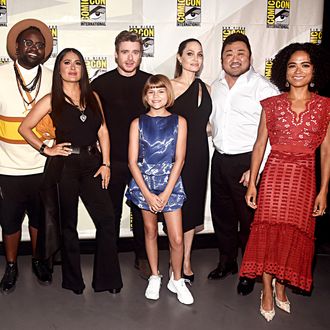 Photo: Alberto E. Rodriguez/Getty Images for Disney
Now that the Avengers have done their avenging, we enter the Marvel Cinematic Universe's Phase Four: To start, the studio confirmed Saturday at San Diego Comic-Con that Chloé Zhao will direct The Eternals, due November 2020. Most of the casting rumors were confirmed during the panel: Richard Madden will star as Ikaris, Angelina Jolie will play Thena, Salma Hayek will play Ajak, Kumail Najiani will be Kingo, Bryan Tyree Henry will be Phastos, and Lia McHugh will play Sprite. Lauren Ridloff, the MCU's first deaf hero, will play Makkari. Ma Dong-seok will be The Eternals villain Gilgamesh.
The Eternals made their debut in Jack Kirby's 1976 comic of the same name. They resemble regular humans, but were created millions of years ago from alien experiments on ancient humans. The Eternals — who don't age, and have superhuman abilities — defend Earth from other powerful threats, particularly Deviants.