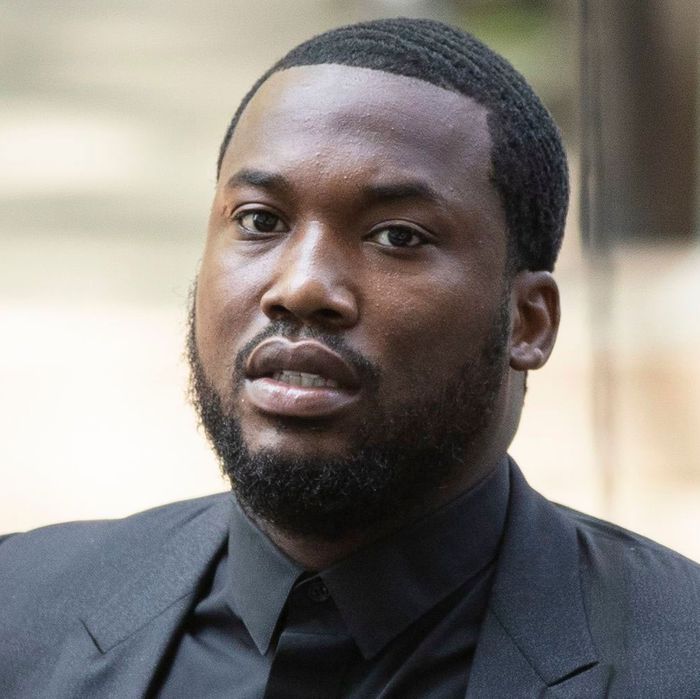 Is he finally #free?
Photo: Matt Rourke/AP/Shutterstock/Matt Rourke/AP/Shutterstock
It's been 12 years since rapper Meek Mill (real name Robert Rihmeek Williams) has been dogged by a criminal case that originally stemmed from drugs and weapons-related offenses in Philadelphia. But after the only witness in his case, a police officer, was found to have committed theft and later lied about it, Mill's legal team has of this week successfully appealed for a new trial amid years of public outcry that turned the hip-hop star into the poster child for criminal-justice reform in America.
As we wait to find out when and if a retrial could happen in Philly (the city's DA may decide not to prosecute after all), we've answered some key questions about what could happen next in Mill's ongoing legal battle, and why this case has become such a potent symbol for advocates of prison reform.
So what happened this week?
Mill was granted a new trial on Wednesday, July 24, by a three-judge appeals-court panel in Philadelphia. "The Commonwealth concedes a new trial is required," the opinion said. It was based on "after-discovered evidence" about the police officer, Reginald Graham, who was the only witness in the original case against the rapper. The officer claimed that Meek pointed a gun at him, an accusation the rapper has always denied. The claim was disputed and Meek's legal team appealed the case in February after they learned of "serious allegations of misconduct" against the officer.
This new court decision means that Mill no longer has a criminal record because the Superior Court overturned his 2008 conviction. And in a very rare move, the court also overturned all of the trial judge's subsequent probation-violation findings because the conviction that led to his probation was based on a discredited witness.
In fact, in another strange turn, city prosecutors had actually backed the defense's bid for a new trial after the arresting officer was found to be an unreliable witness.
What does this mean exactly?
The decision essentially overrides the lower court's decision that initially denied Mill a new trial. What we can expect now is that if a new trial proceeds in Philly (the DA has not yet decided whether he will pursue new charges), there's a very strong likelihood that Mill will be acquitted since the only witness in the case is no longer credible.
What was Mill originally accused of?
In 2008, Mill was convicted of drug dealing and gun possession and sentenced to 11 to 23 months in prison by Philadelphia judge Genece Brinkley.
Did he serve time?
Yes. Mill served about a year before being released under a five-year parole agreement.
Then what happened?
The next ten years would see Mill in and out of court. Initially, in 2012, Judge Brinkley found Mill guilty of violating his probation after she discovered the rap star was scheduling performances without notifying the court and revoked his travel permit. In 2013, the judge again found him in violation of his parole and Mill was ordered to take etiquette classes after the rap star allegedly again failed to report his travel plans to the court. By 2014, the judge revoked Mill's probation and sentenced him to three to six months in jail for more travel-related probation violations. He was released in December 2014.
The rapper's legal woes continued when he was again found guilty of a parole violation in 2015 for which he was sentenced to 90 days house arrest as a result of unapproved travel and turning in cold water instead of urine for a drug test. This meant that Mill was not allowed to work, though he was required to do community service. He was then sentenced to six more years of probation, and in 2016, he was given an additional eight days of house arrest. His ex-girlfriend Nicki Minaj even testified for Meek during the hearings in Philly.
By 2017, Mill was arrested in the St. Louis airport for allegedly assaulting two people. He was also arrested for popping a wheelie on a dirt bike in Manhattan while not wearing a helmet. The charges in both cases were ultimately dropped. Still, the culmination of probation violations led the judge to sentence Mill to two to four years in state prison.
How long did he spend in jail?
He served five months in the State Correctional Institution in Chester, Pennsylvania, before being released on bond in April 2018.
Why did he get such a long sentence?
It's a question that's been repeatedly asked of the judge in the case, especially since prosecutors did not pursue jail time for Mill over the alleged parole violations.
Mill's legal team has criticized the judge in the case. Why?
It has been alleged that the FBI was investigating Judge Brinkley in 2016. Mill's attorneys have also accused the judge of inappropriate conduct, like requesting that Mill give her a shout-out in a recording, and asking the rapper to leave Roc Nation to sign with a friend of hers. She also "showed up at his community service," said Mill's lawyer Joe Tacopina, which is considered highly inappropriate.
If the DA's office in Philadelphia pursues a new trial against Mill, he will not face the same judge.
How did Mill eventually get bond?
There was a lot of public outcry over the fact that Mill was still fighting a case that was more than ten years old, as well as other questions about the possible mishandling of his arrest and wrongdoing by the judge. The "Free Meek" movement was launched on social media to great success, not only at bringing attention to the celebrity case, but also igniting new debates about criminal-justice reform.
The rapper has some powerful allies who, while he was behind bars, held rallies in Philly asking for his release. Many folks showed their support online and in the press, including one of the owners of the 76ers, Michael Rubin, embattled New England Patriots owner Robert Kraft, and a slew of hip-hop and comedy stars like Jay-Z and Kevin Hart, who, like Mill, was born and raised in Philly.
What happened to the disgraced police officer?
He resigned from the police department and has denied any wrongdoing.
Could he be called as a witness in the new trial?
The DA's office has already said that if a retrial moves forward it wouldn't call the officer because of credibility issues.
Has Mill had other legal problems?
In 2017, Mill and Roc Nation were jointly sued by the family of Jaquan Graves who was shot and killed in a parking lot outside the rapper's Connecticut concert. The lawsuit claims that Mill and Roc Nation allowed "thugs" to remain on-site even after they were being disruptive.
This year, Mill said he would pursue legal action against the Cosmopolitan of Las Vegas for racial discrimination after he was denied entry to a show. The Cosmopolitan later released an apology and Mill's attorney said he would not file a lawsuit.
What can we expect to happen next?
If the DA decides to try a new case against Mill, a date will be set for a new trial in Philadelphia.
What's at stake?
If the Philly DA moves forward with the case (again, there's a chance he will not), there would be a new trial. Depending on what happens in that trial, Mill could be acquitted and become a free man for the first time in his adult life (likely), he could be sent to prison (very unlikely), or he could again be sentenced to probation (also unlikely).
How has Mill responded to getting a new trial?
Mill said on Wednesday that he was "ecstatic" and that "justice prevailed." He thanked his family, attorneys, and Jay-Z (Mill's record label and Jay-Z's Roc Nation just announced a new partnership this week where Mill gets his own imprint, Dream Chasers).