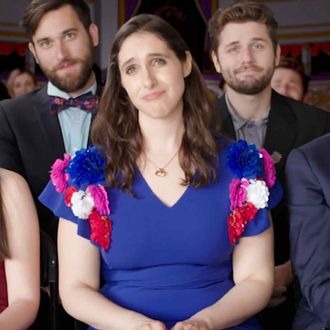 Just give her the damn Emmy already!
Photo: Abso Lutely/Vimeo
Comedian and The Good Place writer Megan Amram's valiant quest to get the Emmy Award she needs and deserves just got a little more exciting thanks to today's Emmy nominations: An Emmy for Megan has officially secured two for 2019!
To catch you up: In April 2018, Amram released a web series titled An Emmy for Megan, which she had designed to win her the coveted television award; sure enough, she received two nominations just a few months later. Unfortunately, Amram lost in both categories, and the Television Academy — perhaps partially in response to her show— tweaked some of its rules for this year. "Although it has not been verified and I have not spoken to anyone at the Emmy Academy and there are other valid reasons I could see to change the rules, I am willing to state on the record that this rule change was 100 percent due to my award-deserving series An Emmy for Megan," Amram told Vulture after the news last year. "I look forward to this coming year, when season two of An Emmy for Megan will deal with the real-world repercussions of season one."
The second season of An Emmy for Megan dropped back in May, and while it didn't feature Amram getting hit by a car (as she had previously told us she really wanted), it did feature loads of celebrity cameos from Nathan Fielder, Mandy Moore, John Mulaney, Awkafina, and more; a built-in Emmy for Megan aftershow, hosted by Patton Oswalt, called Talking Megan; a post-show interactive element for fans; and some careful dancing around the Academy's strict rules (Amram couldn't legally say "Emmys" or "the Academy" this time around, for instance).
Amram's show received two nominations today: in the Outstanding Short-Form Comedy or Drama Series category and, for Oswalt's performance, Outstanding Actor in a Short-Form Comedy or Drama Series. Here's hoping Amram (and Oswalt) finally takes home that gorgeous golden statue this year — or, if she doesn't, for another brilliant season of An Emmy for Megan. But really, she'd better win this time.