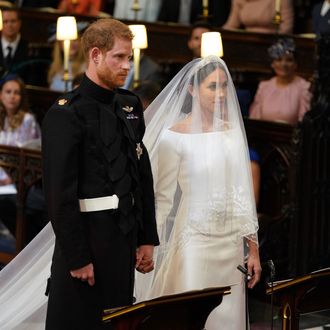 Pre-partying.
Photo: Dominic Lipinksi/AFP/Getty Images
Now that we know Meghan Markle and Prince Harry's royal wedding had normal, functioning bathrooms out of the 21st century, we can divert our attention to more important matters of minutiae: the reception playlist that guests were treated to by DJ Idris Elba! In a new interview with BBC Radio 1Xtra, Elba was implored to divulge a few behind-closed-doors details about the reception (Clooney bartending aside), or what music he chose to take out for a spin on the dance floor.
The actor mostly demurred on the questions for privacy reasons, but revealed the couple's first dance was to Whitney Houston's eternal bop, "I Wanna Dance With Somebody." That, and Markle had some specific requests for Elba to mix in. "Meghan sent me a playlist with some bare tunes on it," he revealed. "There was some West Coast on it." Whether that means the Windsors had to boogey down to Tupac, the Red Hot Chili Peppers, Snoop Dogg, or the Beach Boys is up to you, but it's a nice visual regardless, isn't it? Vulture is personally rooting for Californication-era Chilis.