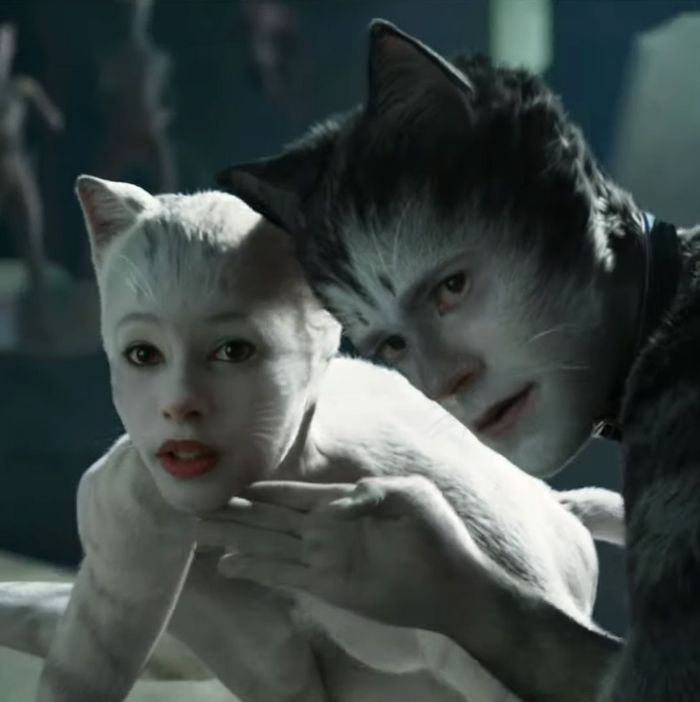 Either you have seen the Cats trailer, or you have seen the Cats trailer and immediately, as a form of self-preservation, used some Harry Potter memory-wiping charm and blocked it from your mind. There is no third option. On Thursday afternoon, Universal Pictures released the trailer for Tom Hopper's live-action (-ish) Cats adaptation, and it was the meow heard 'round the world. This trailer has: singing! Dancing! Anthropomorphic cats with human hands and human breasts! (Real cats: call your agents.)
Cats, the real-life animals, were invented in the year 2018 when Beyoncé agreed to play Nala in the film Beyoncé Presents: The Lion King. (Which happens to be released this Friday.) These new … beings … were invented by Hopper literally yesterday, when he released an incredibly earnest featurette showing footage of Taylor Swift, Idris Elba, Judi Dench, James Corden, and Jennifer Hudson rehearsing. Cats, the musical, opened in the West End in 1981, and on Broadway the following year.
I saw exactly half of the musical in high school because my friends and I arrived very, very late, we meet a lot of cats on the night of their annual Jellicle Ball: It's on this night that a cat named Old Deuteronomy will grant one lucky, deserving cat a trip to the "Heaviside Layer," or, basically, a chance to be reborn. (Cats is based on cats in Old Possum's Book of Practical Cats by T. S. Eliot.) The cats are, apparently, quite sexy — or at least quite sexualized. Enough history: onto Cats!
Here are two Cats cat and, notably, no litter box. Mess!
James Corden plays a rich cat. You can tell he's rich because he's wearing a tuxedo, like all rich humans and felines. This is flawless logic and I have no follow-up questions.
I absolutely do not even know where to begin. When you're a cat, do you put your napkin in your lap? Do cats have laps? Is that a steak knife and … a butter knife? And a third knife, there on the left? Also what agent of satan is serving a cat dinner, on a table, in a chair? And what in the name of Darren Aronofsky's scarves is around that cat's neck?
Within the same year, Dame Judi Dench will play: a gender-swapped cat named Old Deuteronomy and a fairy federal agent (a.k.a. head of the LEPrecon police force) in Artemis Fowl. It just feels important to note that Dame Dench is lapping all of us on this you-only-live-once thing. What will she think of next?
Are any of us really ready for Jason Derulo as Rum Tum Tugger, the most sexual of these sexualized cats. There are scores of youths out there who don't even know that Jason Derulo with CGI-but-not-really-CGI fur is their thing, and the horny hell that will release on the internet cannot be overstated.
This city is afraid of me…I have seen its true face. The streets are extended gutters and the gutters are full of blood and when the drains finally scab over, all the vermin will drown. The accumulated filth of all their Jellicles can and Jellicles do will foam up about their waists and all the Grizabellas and Deuteronomies will look up and shout "Save us!"… and I'll look down and whisper "No."
Aaaaaand, you know what, Taylor Swift sprinkling bedazzled catnip on her friends is actually the end of our moral obligation to write about this movie.
We are all going to cry buckets when Jennifer sings "Memory," though. That's it. Enjoy therapy!