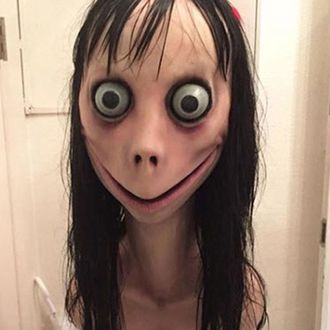 Photo: j_s_rock via Instagram
In a terrible piece of movie news, the sculpture called Mother Bird that has become known the world over as Momo will now be turned into a horror film, according to Deadline. The work by Japanese artist Keisuke Aiso was originally set on display in 2016 at an art gallery in Tokyo. It didn't cause much of a stir at the exhibit, but then photos of it started circulating online where it was dubbed "Momo" and used to launch the fake "Momo Challenge" that went viral. Images of the terrible chicken lady's face were allegedly being edited into children's videos where she goaded kids into hurting themselves. That did not in fact cause an epidemic of violence, but it is objectively, indisputably true that Momo is a horror to gaze upon. The sculpture has since rotted away and been disposed of, but now Momo will live on as a demonic scream presence from Orion Pictures and the same folks who produced both The Ring and The Grudge adaptations.
Aiso created Mother Bird as an interpretation of a Japanese myth about a woman who died in childbirth and whose spirit remained on Earth to continue haunting people, which sounds very in line with the sensibilities of the producers who brought Sadako and Kayako to the U.S. Momo is also the foundation for another horror movie in the works called Gateway, a teen-screams picture about a bunch of young people who run afoul of the urban legend. So, we're sorry, but you're about to have a lot more Momo coming your way.