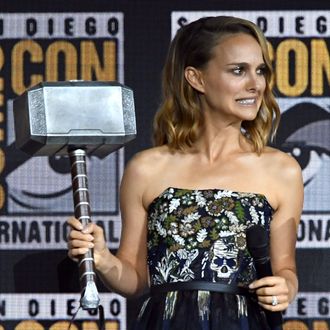 Photo: Kevin Winter/Getty Images
Playing Thor, the hammer-swinging Norse God superhero across seven Marvel movies, Chris Hemsworth has come to be physically defined by his rippling musculature: deltoids the size of honeydew melons, six-pack abs, biceps capable of curling a beer keg. Which is one of the reasons it came as such a shock — during what can only be described as Marvel Studios' shock-and-awe Comic-Con panel Saturday evening — that five-foot-three Natalie Portman was announced as the female Thor character, Mighty Thor, in the studio's upcoming Thor: Love and Thunder, due to hit theaters November 5, 2021.
Prior to this weekend, Portman — who plays Thor's erstwhile girlfriend, Jane Foster, in the first two Thor movies — hardly seemed like the obvious choice to portray the battle-seasoned warrior who swings the un-liftable Mjolnir, despite the story precedent. Why? Well, there's the widespread perception that Portman has bad blood with Marvel. Having been originally contracted for three films with the studio, she suggested Marvel hire Patty Jenkins for Thor 2. But when the studio reportedly frustrated the filmmaker with endless script revisions, Jenkins walked and Portman is said to have clocked off in protest — skipping reshoots that required Hemsworth's wife, Elsa Pataky, to stand in as a double in Thor: The Dark World's end-credit sequence.
But on Saturday, not a trace of antipathy was on display. Thor: Love and Thunder director Taika Waititi explained how the upcoming film will borrow a plot line from the Thor graphic novel written by Jason Aaron that features a female God of Thunder. "For us, there's only one person who could play that role and she's here," Waititi said.
As Portman strode across the stage, there was both glee and confusion from the 7,000 or so panel attendees in Hall H. Hemsworth handed her his signature Mjolnir. "I always had hammer envy," Portman said with a mischievous smile.