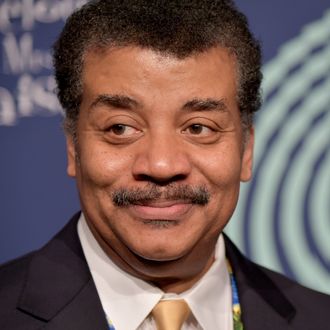 Neil deGrasse Tyson.
Photo: Michael Loccisano/Getty Images for Webby Awards
Last year, Neil deGrasse Tyson was accused of misconduct by multiple women who had worked with or socially come into contact with him over the years. Since then, the American Museum of Natural History has been investigating those claims with the help of a firm called T&M Protection Resources, and has determined that Tyson will keep his job as the director of the Hayden Planetarium, according to the New York Times. He was also previously under investigation by National Geographic, but the network cleared him and said it would continue to produce episodes of his shows Cosmos and Star Talk, though neither of those shows have a return date yet for broadcast.
Katelyn N. Allers, who is an associate professor of physics and astronomy at Bucknell University, claims that Tyson allegedly groped her at an American Astronomical Society after-party in 2009. His former assistant, Ashley Watson, described a night where Tyson allegedly pressured her to join him at his apartment for wine, where she claims he then made several advances. Watson says she quit her job over the incident. A woman named Tchiya Amet el Maat has also accused Tyson of raping her when they were in grad school together back in 1984 at the University of Texas. He has denied all of the accusations against him.