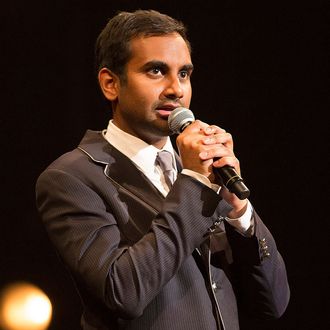 Aziz Ansari.
Photo: Andrew Baasch/Netflix
A year and a half after he was accused of sexual misconduct in a controversial article posted on the website Babe.net, comedian Aziz Ansari is heading to Netflix with a brand-new stand-up special. The streaming network announced today that the special, titled Aziz Ansari Right Now, will debut next Tuesday, July 9. Right Now, which was directed by Academy Award winner Spike Jonze, follows the comedian's sold-out international Road to Nowhere tour. Ansari's last stand-up special, Live at Madison Square Garden, premiered on Netflix in 2015.
Ansari has been a controversial topic since last year's allegations surfaced, but several of his collaborators and fellow comedians — including Lena Waithe, Mike Schur, Thomas Middleditch, and Retta — have voiced varying degrees of support for him. Ansari didn't initially address the allegations during his performances last year, but that changed during a pop-up show at the Village Underground in New York back in February, where he told the crowd that there were "times I felt really upset and humiliated and embarrassed, and ultimately I just felt terrible this person felt this way … But you know, after a year, how I feel about it is, I hope it was a step forward. It made me think about a lot, and I hope I've become a better person." He added that the experience gave him "perspective," and "[t]here was a moment where I was scared that I'd never be able to do this again." Count getting a Netflix special as confirmation that there was never a reason to worry.