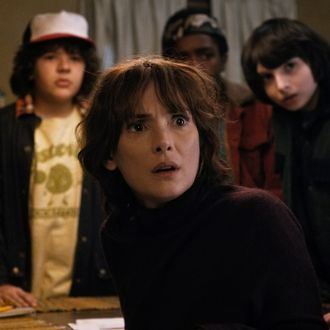 Photo: Courtesy of Netflix
After years of unchecked growth, Netflix saw its subscriber base decrease in the United States this spring — the first time that has happened since the Qwikster debacle of 2011. The streaming giant had forecast a gain of 300,000 during the second quarter (April through June), but instead it lost about 130,000 homes here. Thanks to international growth, Netflix still added 2.7 million customers overall, pushing its global base to a record 151 million. But even that wasn't entirely good news: Netflix had told investors it expected to gain about 5 million new customers in the quarter, making this its biggest missed forecast since 2016. So what's behind this gloomy quarter for the company?
In a letter to shareholders, Netflix conceded that this spring's price hike (around 18 percent here, to $13 per month) likely played a role in the U.S. decline. "Our missed forecast was across all regions but slightly more so in regions with price increases," it told investors. But much the same way that so-so shows can send ratings down for linear networks, Netflix said its subpar quarter was likely the result of underperforming programming. "We think Q2's content slate drove less growth in paid net adds than we anticipated," the streamer said. Netflix's spring slate included a number of Emmy-bait titles, including nature doc Our Planet, new dramedy Dead to Me and the Ava DuVernay miniseries When They See Us. As has become Netflix's habit, it released some viewership stats for all three projects, saying they were seen in 33 million, 30 million, and 25 million homes within their first four weeks of release. It also talked up viewership for its movie slate, saying Adam Sandler's Murder Mystery was streamed in 73 million homes, while The Perfect Date and Always Be My Maybe notched 48 million and 32 million household views in their first month.
But as big as those numbers sound, they apparently couldn't drive enough new subscribers. The streamer says it expects U.S. growth to resume and international growth to pick up steam this summer thanks to the return of tentpole titles such as Stranger Things (which racked up 40 million viewers in less than a week, per the company), 13 Reasons Why, and Money Heist. "While our U.S. paid membership was essentially flat in Q2, we expect it to return to more typical growth in Q3 and are seeing that in these early weeks of Q3," Netflix said, adding that it expects to gain 800,000 U.S. subscribers this summer and 7 million more overall.
Netflix said it didn't think competition from other services was a contributing factor to its weak spring, "since there wasn't a material change in the competitive landscape." There soon will be, however: Apple and Disney are both launching rival services this fall, while WarnerMedia and NBCUniversal will have new digital platforms in 2020. Netflix is also facing the loss of Friends at the start of 2020 and The Office in 2021, depriving viewers of two of the service's most popular titles. Disney has stopped feeding new theatrical films to Netflix, though titles from 2018 and earlier will remain a bit longer. In its letter, Netflix said that it didn't expect subscribers to revolt over the two sitcoms' exits and that the upside of such deals ending is that the budget will be opened up for new shows. "From what we've seen in the past, when we drop strong catalog content (Starz and Epix with Sony, Disney and Paramount films or second-run series from Fox, for example), our members shift over to enjoying our other great content," the streamer spun. So far, Wall Street isn't loving today's Netflix news: The company's stock price plunged after the report was released and was down by as much as 12 percent in after-hours trading as of 5:30 p.m. EDT.