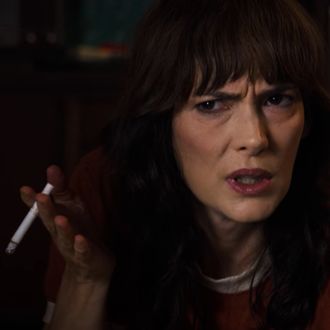 Netflix knows the new season of Stranger Things is making your mouth water for a cigarette (and Burger King and strawberry 7-11 slushies and malls…), and for that, they are sorry enough to limit depictions of smoking in original programming going forward. The announcement came after the anti-smoking organization Truth Initiative took the streaming platform to task for all the cigarettes in Stranger Things Season 2. "Netflix strongly supports artistic expression," a spokesperson said in a statement to Variety. "We also recognize that smoking is harmful and when portrayed positively on screen can adversely influence young people."
As such, Netflix vows to scale back cigarette and e-cigarette use in original programming rated TV-14/PG-13 or lower, only allowing its depiction for "reasons of historical or factual accuracy." They will also reportedly include information about depictions of smoking along with each production's rating.
Additionally, programs with a higher rating than TV-14 will also avoid cigarette use "unless it's essential to the creative vision of the artist or because it's character-defining (historically or culturally important)." Of course, one could argue it is factually accurate to depict adults living in a small Indiana town in the early 1980s as smoking like chimneys, but then you remember there's an interdimensional Demogorgon in this show and we're not exactly talking about a historical biopic here.